Tips for visiting Holiday World in Santa Claus, Indiana
Louisville families love to go to Holiday World. Are you considering visiting? It's important to know a few things before you go so you know what to expect, what to bring, how much you'll spend and more. Here are our Holiday World tips.
When we visited Holiday World for the first time, we had a really nice time. I asked readers for tips via our Facebook page and I did take a lot of this advice! I am compiling that advice with my own observations and tips to give you a nice set of bullet points that can make your trip to Holiday World the most fun possible!
Holiday World tips for visiting:
The drive is easy right on I64 into IN. There is a gas station, hotel and a few fast food restaurants at the exit.
Santa Claus, IN is on Central time, plan accordingly.
Take a look at the map online before you go and make a plan.
Buy tickets in advance online and save $5 per ticket or at Kroger and you can save more plus you don't have to wait in line when you get there.   There's also a bunch of discounts for entering at different times, coming in May instead of peak season etc. and you need to bring an empty Pepsi can.   See them here.
If you can visit during the week, there will be less waiting in lines at rides and food spots.
They have a new (2018) daily deals site for specials on food, games, and more!
The park is broken up into different sections named for holidays.
You can get unlimited soft drinks at any of the food locations or at the drink areas. There are Pepsi products and it's not just soda – there's Gatorade, tea (that was really good) as well.
There are sunscreen stations throughout the park with pumps of creamy SPF.  That was really nice so we didn't have to carry anything around.
Once you enter, on the right you can purchase a locker and you and the family get a wristband to use to redeem your locker somewhere in the park and keep opening it all day.  A large locker was $15 and easily fit 2 back packs.
At guest relations (and other venues like gift shops) you can also load HoliCash to a wristband. If you are just going for the day and you don't want to carry a wallet or purse, you can get all of the remaining balance redeemed back at the end of the day as long as it's under $50.
Keep walking after you enter and after the gift shop on the right, there's a station to check your child's height. They will give your child a colored wristband to indicate how tall they are and therefore indicate which rides he/she can ride. See height restrictions here.
Have them write your phone number on the children's wristbands.
I felt the best place to get a locker was in the water park because that is where we would want to actually change. We headed there right after getting wristbands and got a locker and put away our stuff. If  it's a really hot day early, do the water park activities first when it is less crowded and then change in the afternoon to head to the rest of the park.  We did not do this because we visited on a mild day and when it was hotter at 3pm and we did got to Splashin' Safari, it was packed and we couldn't maximize our visit. I would definitely recommend doing the water park first.
There are many ride options for kids of all ages (well, not a 6 week old baby, duh) in each of the areas of the park.  At 48 inches, kids can ride ALL of the rides.
At each ride, if you have glasses, hat or wallet etc., there are lockers that you can pop the stuff into and take the little key that has an elastic to put on your wrist. Really nice feature!
Check the schedule for the shows and plan to see the dive show, it's a favorite.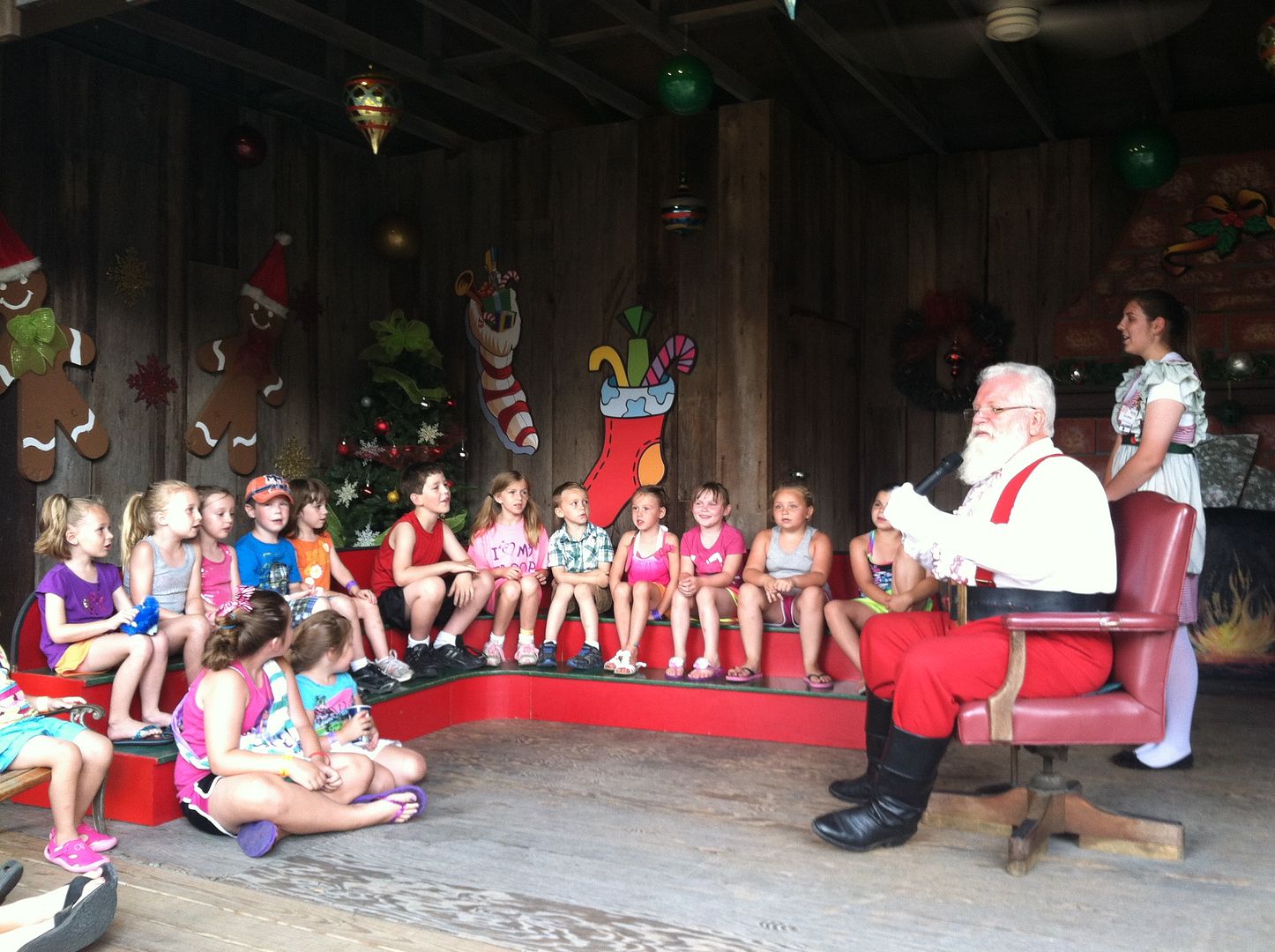 Santa has story time in the Christmas section of the park and it is adorable. The little ones go on stage with him and they just love it. Each child gets a chance to talk to Santa and gets a little trinket. My son is still sleeping with his little stuffed Santa a month later.
Many readers indicated that the restaurant in the Thanksgiving area was the best and most reasonably priced for either lunch or dinner.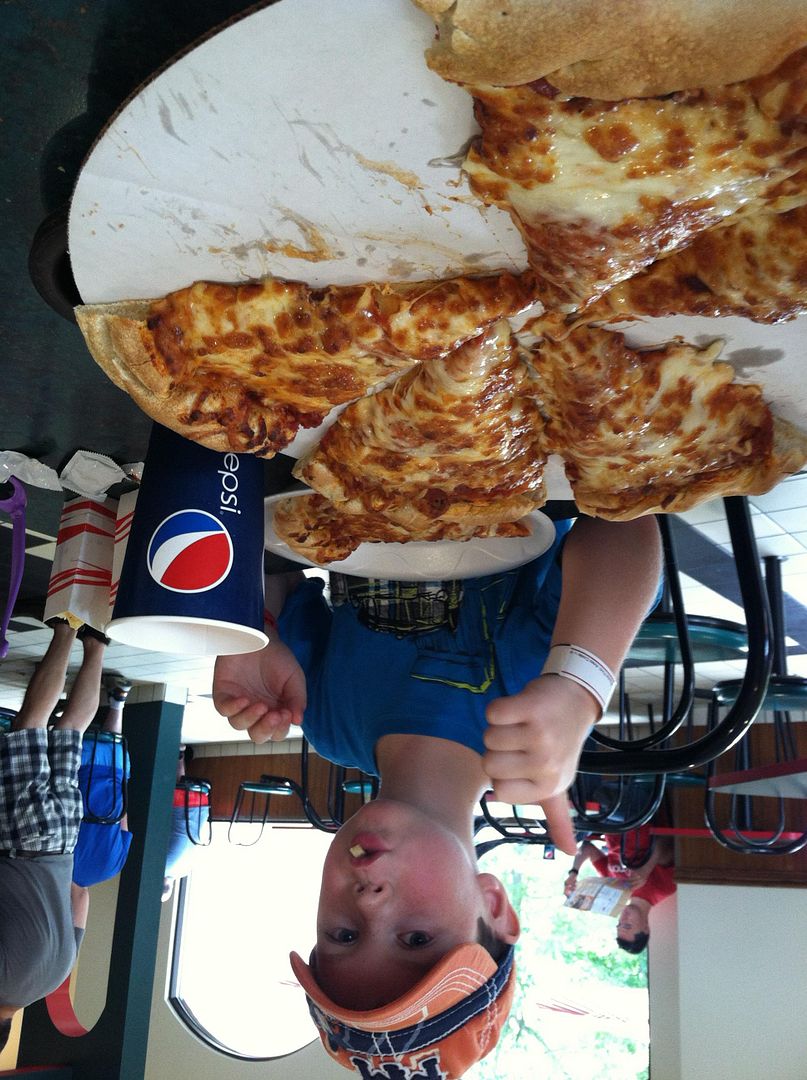 We at lunch in Christmas and we ordered the pizza deal. It was a HUGE pizza, 4 french fries (or you can get bread sticks) and Oreo cookies all for around $30.  I liked ordering a family meal to keep it simple.  The pizza was very good and it was again….HUGE. We actually did not eat dinner at Holiday World because we were so stuffed from lunch and chose to just have a treat in the evening. Check the deals page!
Someone also said that the BBQ restaurant in the 4th of July section is really good.
For little ones, right by "The Raven" roller coaster, there's a really nice small section of a lot of rides for them with really short or no lines.
You WILL get wet on Raging Rapids.
Don't wear flip flops. Wear sandals with straps or other shoes that can work for both the park and Splashin' Safari.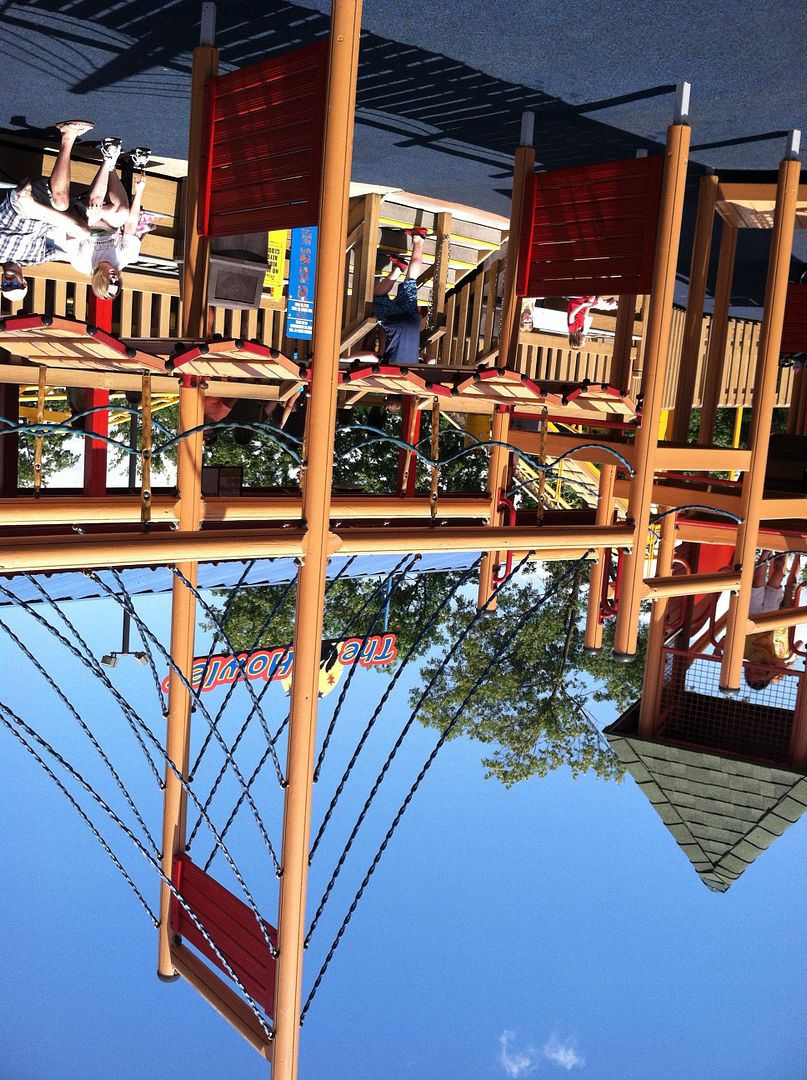 There is a little sprayground in the area called Hollidog's Funtown. My kids LOVED this area. Really good for kids say 7 and under. There's a few rides (little kid coaster), a nice playground and the sprayground.  Great place to hang out for a little bit, ride a little train and reapply some sun screen.
My son and I went on "The Raven" and had a blast. The line was long but we went on right during the dive show so we watched it while online and I felt the line went fast.   This is the smaller of the big roller coaster so great for a first time roller-coaster rider.
In Splashin' Safari, the best place for little kids is Safari Sam's Splashland. It's shallow and has lots of little slides.  My kids also liked Monsoon Lagoon.  There are 2 wave pools.  Lots of slides and such but we didn't go on all but one because the lines were very long in the afternoon and my kids were happy with just splashing in a pool or smaller area.
You can rent cabanas in Splashin' Safari online before you go. They are $125 and if you have a big group to share it or a young child that will need to rest, this may be a good option. We are too "on the go" to maximize this cost. Book them early before they sell out.
We did go on "The Mammoth" in Splashin' Safari and waited almost an hour. But, it was really really fun and my son was freaking out (in a good way) when we got off and just loved it. The afternoon lines in the water park were longer than anything we saw in the rest of the park.
Get the red/blue twist in the 4th of July section for dessert! I found it to be really well priced for a theme park – my daughter and I both got treats for less than $6 – big cones!  And, in the bakery in Christmas, they have lots of treats and they are also wallet-friendly.
You can get a 2 day pay pass to save money and there is definitely enough to do going to the park over 2 days, we didn't do everything in 1 day.
If you leave the park when everyone else is (like with us, it started to rain hard so everyone left in droves to the parking lot) you will wait a long time in the parking lot to leave since they funnel everyone through one exit.
Thanks for reading our Holiday World tips.
Note: This post is "old" so prices and times may have changed



Looking for more day trip ideas? Click here.