Review of Okolona Park in Louisville, KY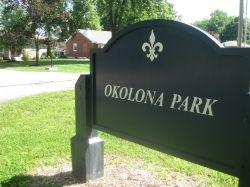 My kids and I attended the recent Okolona Park Revitalization ribbon cutting ceremony with Mayor Greg Fischer and Louisville Metro Government. I saw a post about it on the Mayor's Facebook page and decided to head over there the day of to participate in the official ceremony.
I had never been to this park before, and I was very impressed. Of course, it has had a recent renovation and upheaval with new playground equipment installed. My husband remembers this park from his younger days because he grew up in south Louisville (Highview) and used to use this park's basketball court religiously. I was so glad to find this park and take my kids there and discover something new for our family.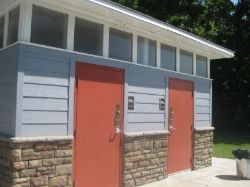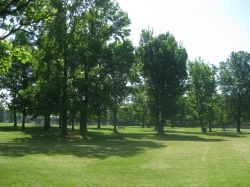 The park's grounds are larger than I expected. There are fields with soccer goals set up, tennis courts, and there is a nice walking trail. There is still a basketball court for pickup games and there are a couple of pavilions and picnic shelters. The restrooms were nice and fresh and clean from their recent remodeling-I hope they remain that way!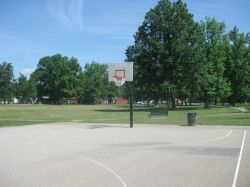 The playground was fantastic. There are two climbing structures, a swing set, and a monkey bar type swinging apparatus that was heavily used the day we were there. The only drawback might be that the steps were a little too hard for my 22 month-old to maneuver, so your little ones under 2 will probably need lots of help. The staircase up to one of the slides is pretty steep as well and the slide is higher than I'm used to seeing, but that didn't stop my daughter and the many other kids there that day from sliding down! I also noticed lots of trees providing shady spots which would be perfect for picnicking as well (but the playground itself was dead center in the sun's rays so be aware of that.)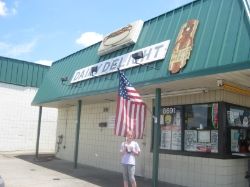 On the way home, we stopped at Dairy Delight on Preston Highway for a quick treat to cool off. Again, this ice cream stand/food counter at the corner of a shopping center on Preston is another nostalgia spot for my husband. He frequented this joint many a time, and bought his fair share of ice cream treats in the 80s and 90s! It is still there and we enjoyed a nice treat for 3 of us for about $5.00. They also serve your choice of snacky items like hot dogs, coneys, and nachos.
Head out to the newly adorned Okolona Park and stop by Dairy Delight on your way home. Okolona Park is located at 1114 Clay Avenue; it is part of the Louisville Metro Parks system and is open dawn to dusk. Dairy Delight is located at 8691 Preston Highway/502-964-1345; it closes every night at 11pm and prices ranged from $2-$5-it is CASH ONLY!
By guest contributor: Erin