Day Trip to IKEA Store (from Louisville, KY to West Chester, Ohio)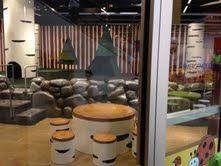 Follow Louisville Family Fun on
Facebook
!
If you have never been to IKEA in West Chester, Ohio, then you need to go. It's more than just a shopping experience. It may be known for having furniture for every room, but it also sells toys, packaged food, and has a giant cafeteria. But best of all, it's one of the most family-friendly stores you will ever enter. My kids prefer to skip the shopping, and stay in the kids drop off area. I fill out a card with my contact info on it and get a pager. The kids stay and play with the toys, slide, ball pit, coloring, and kid-friendly movie playing. That grants me one hour of kid free shopping time. If the play area gets full, it will have a wait time, so we usually try to get there when it opens at 10 am. If the kids do go shopping with you, there are several kid stations along the way, and the kids room area has a ton to of furniture and toys to try out.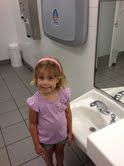 There are lots of restrooms throughout the building, and there are family restrooms as well. The women's restrooms have child height sinks, changing stations, toddler seats, diaper genies, complimentary diapers and complimentary sanitary items. They seem to always keep the restrooms well stocked and clean.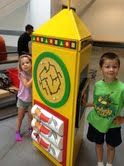 There are two places to get food. The main cafeteria is upstairs and there is a separate smaller food area downstairs that has a lot of finger foods, snacks and desserts. In the main cafeteria, you can grab trays and head down the line. Be sure to grab a tray cart if you will have several trays. There are lots of discounts on food different times of day, different days of the week, and monthly specials. Usually kids eat free on Tuesdays with the purchase of an adult meal. Be sure to check the website or signs by the cafeteria for deals. Without the deals, you can easily spend over $25 for a family of four for lunch, but with the deals, you could end up eating for free! The cafeteria usually sells something Swedish, so there's always an opportunity to educate your kids on different cultures. There is also a kids area in the main cafeteria with toys, small chairs and tables, and a TV. There is usually a kids movie or the KET channel playing. My kids can play in that cafeteria area for an hour! The downstairs eating area only has a few tables and chairs, but it's also great to grab a Swedish snack for the trip home.
If you buy large items, staff will help you bring them to the registers and help you load your car (if you don't want to pay to have them delivered). There is also a parking lot designated especially for families, close to the building and with sidewalks up to the door. You can't beat a store that caters to families inside and out.
By guest contributor: Caryn