LouFamFun $10 Challenge – August
I love a good challenge, so when I was asked to have some
fun for the August $10 challenge, I wanted to look around for a fun and unique
time for my two boys and I before we hit the back to school routine. I decided
to try and stretch my newfound funds for as many days of fun as I could. Since
we love to be outside, our first stop was a picnic from home and a fun time
hiking trails at
Bernheim Arboretum and Research Forest
. We loaded in the car
early, slathered on the sunscreen and bug spray and had a great time walking
the two ponds loop. We saw lots of geese, turtles, and fish, as well as the
awesome trees and plants that make Bernheim such a cool place to be year round.
We walked, we played, and by the time we were headed to the car to dodge a pop
up shower, both boys were worn out! To me one of the best parts was that
admission to the Arboretum is free from Monday through Friday- so we still had
our $10 intact for more fun! Admission
is only $5 per carload on weekends and holidays.
The next idea was sort of an "Oh no! It's raining!" kind of
twist. We've all been there- you think you can have a somewhat normal schedule
to your day, but before long everyone was climbing the walls! So, I went for a
kind of "home chemistry,
Pinterest
idea, good clean fun" kind of approach. I
broke out all of the kitchen staples in the pantry and we tried our hand at as
many "homemade" fun things as we could!
We did color exploration with food color and water ("Red and
Blue make purple, mommy!") We made our own super bubble solution and tried out
variations to make sure it was THE BEST! We made the well-loved "cornstartch
and water oobleck" to play with, and my new purchase to add to the fun was some
Borax (around $3 for a big box) for some fun with polymers in the kitchen. We
made our own slime, and bouncy balls. (The bouncy balls were kind of a flop for
us, but maybe you will have better luck!)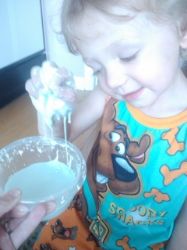 Last but not least, we mixed together baking soda and
vinegar for some foamy fun. We did that a lot. There are a lot of sites out
there with great recipes, so if you can't remember just how to make the PERFECT
kitchen volcano, it is easy to find. We
used a lot of sites from
http://chemistry.about.com
. We also made some paper
airplanes, and raced them down the stairs. With the remainder of the money, we
made my oldest boy's day.
My 4 year old son loves planes and rockets, and all things
that even resemble them. So the next day when he saw that we were headed to the
hobby store, he was beside himself. We went inside and bought something that
was a blast from my past, but especially my husband's past. We found a small
water rocket for just over $5. This is the kind that you fill with water, pump
up by hand to build pressure, and then "let her rip!" Full of giggles, we picked
up my husband and headed to the Douglass Hills neighborhood park to have some
fun.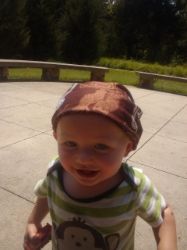 We chose this place, since they have a great water fountain and pump that
ended up working very well with the water rocket, and more importantly, open
spaces. We spent almost 2 hours giggling and chasing, and making memories.
By guest contributor: Jackie