Review Cafecito: Coffee Shop and Italian Ice Shoppe in Jeffersontown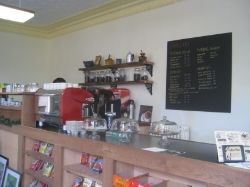 While we've been on summer break, I've been itching to go to this great little cafe that opened up in Jeffersontown a few months ago. I've been in a few times before to grab a cup of coffee, and I must say that I have had the most authentic, delicious cup of Cuban coffee here. But I wanted to take my daughter there for a lunch date and finally got a chance to recently. She and I did a girl's day one afternoon while my younger one was with a sitter. We had a very nice lunch and special treat and did some shopping as well.
Cafecito is a coffee and sandwich shop in the heart of Jeffersontown near the district they refer to as Gaslight Square. It is located right down the street from Gaslight Pavilion, where the Jeffersontown Farmers' Market is held every Tuesday (5pm-7:30pm) and Saturday (8am-12:30pm).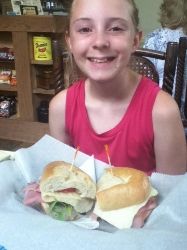 They mainly serve made-to-order deli sandwiches and hot paninis, salads, and soup. My daughter and I ordered a black forest ham sandwich and chips. Our total bill was $18.50 and that included a sandwich, two chips, two drinks, and two servings of Italian ice. Their coffee menu is loaded and they will custom make a drink if you'd like. They serve hot drinks, espresso, iced drinks like coffee and tea. I ordered an iced coffee with caramel flavoring.
Cafecito is also an Italian ice shop; they serve 16 flavors of this scrumptious dessert as well. My daughter and I each got one and tried the pina colada, cherry, strawberry, mango, and watermelon. It was scrumptious!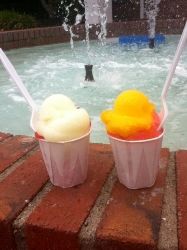 After enjoying lunch and our Italian ice treat, we headed down Watterson Trail and stopped in Sissy's Consignment & Boutique and another cute consignment store called Molly's. We bought a few accessories-girly stuff you know, and then headed home. It was a wonderful afternoon together! Check out Cafecito next time you're in the Jeffersontown area. It is located at 10414 Watterson Trail and their current hours are M-F 8:30-4 and Saturdays 8:30-2; 502-409-8712. Give this very small shop your business and help those Louisville locals!
By guest contributor: Erin