Review of Santa's Cottages near Holiday World in Santa Claus, IN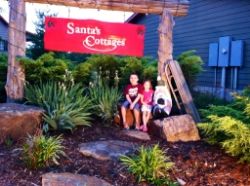 In early June, my family of four went on a two day getaway to
Holiday World
. Because we ventured up there the night before, we needed lodging for two nights. There are a limited number of places to stay in Santa Claus, IN, but we could not have been happier with our choice,
Santa's Cottages
.
Just two miles down the road from
Holiday World
, Santa's Cottages is a family owned and operated resort that's big on family fun! Checking in right before dinner, we were promptly greeted by the owner in an office that doubles as a mini store selling useful items such as firewood, pool toys, fishing poles and bait. My son was immediately drawn to a wall of DVDs which were available for guests to borrow, free of charge. The owner drove a golf cart over to our cottage and we followed by van. Inside, he showed us all of the amenities, gave us a map of the property and went over some of the rules, such as quiet time and the expectation for us to take out the garbage and wash all the dishes before checking out. All of our questions were answered and we were left with his cell phone number to call in case of any additional questions or problems.
Our one bedroom cottage included a queen sized bed in the private bedroom and a queen Murphy bed and full futon in the living room. The living room was open to a compact kitchen and dining area. The kitchen included a full size refrigerator, 2 cooking burners, dishes, cups, pots and pans, coffee maker, microwave, toaster and sink, as well as a little bar with 2 stools. To the side was a dining table with bench seating. There was a single bathroom, that included a combination tub/shower and single vanity. I was impressed that both the bathroom and the bedroom featured little alcoves with a bench for storing suitcases, etc. and a bar for hanging clothing. Above the bar was a shelf that I wasn't quite tall enough to put to use. The area below the bench was open, so I designated this as the spot for keeping our shoes.
My family thought the Christmas/woodsy decor of the cottage was fun. There was a small lighted tree in the living room, which made the place feel festive. My personal favorite was the the toilet paper holder made of antlers! I was also very impressed by the way the cottage was stocked with things that regular hotels don't have, such as dish soap, liquid hand soap and paper towels. The only thing missing was tissues.
Right off of the dining area was a covered stone patio, complete with a table and chairs and a porch swing. There was also a charcoal "park-style" grill. The patio boasted a view of Lake Jolly. My daughter immediately requested to go outside to feed the ducks, fish and turtles. The owner had given us a large bucket of pellets upon arrival. Refills were available for a nominal fee, though we didn't need one. We also saw multiple families fishing behind their cabins. The fishing is catch and release and there were poles available for rent, as well as some for purchase inside the office. We did not fish on this trip, but will definitely do so next time!
After dinner, we decided to explore the rest of the property. We discovered a small fenced in playground for younger children. It featured a play structure as well as a large sandbox area that was stocked with all kinds of toys for digging and playing. Beyond that, there was a small play cottage with some toys, a basketball court, another giant sand play area and my children's favorite, the horsey tire swings. They had a blast swinging on those until it started getting dark. On our walk back to the cottage, we heard frogs croaking along the banks of the lake. In addition to Lake Jolly, there is Elf Pond, a new swimming pool/splash pad and a laundry facility. We did not get a chance to explore those areas. One of our favorite features of Santa's Cottages, was the private fire pit area. There is one for each cottage! Ours was across the little road from our cottage. We had a great time chatting and making s'mores for an evening treat.
Our stay at Santa's Cottages was next to perfect. It had all of the comforts of a hotel and so much more! We definitely plan to go back, and next time we will allow more time for enjoying the property and all of the fun "extras" it offers. I do think we will probably stick with visiting in late spring or early fall. Our cottage was climate controlled by a single wall unit in the living area and a couple of ceiling fans. The temperature was mild during our stay, but I see this as a possible concern for hotter months. Also, the rates vary seasonally, with summer and weekends costing the most. In addition to the cottage fee, there is also a fee for linens, unless you choose to bring your own. For larger families, there are three styles of 2 BR cottages that look very nice in the photos/descriptions online. For more information, visit
www.SantasCottages.com
or call
812-686-2628
. Here is a slideshow to see how great the lodging is!
By guest contributor: Brandy