Top Dog-Friendly Locations in and around Louisville, KY
For the Dogs…
1. The following eight dog parks listed are founded and supported by The Louisville Dog Run Association (LDRA). Each requires a permit to enter. The cost of the 2015 Dog Park Permit is $30.00 for the first dog, $20.00 for the second dog, $10.00 for the third dog, and $5.00 per additional dog in the same household. All funds from the sale of the Dog Park Permits will go towards the dog parks' maintenance and improvement costs.
a.
Champions Dog Run at Champion Park
: Located along the River Road Recreation Corridor. Separate All Dog and Small Dog sides, drinking water available, and plenty of space to run around and exercise.
b. Cochran Hill Dog Run at Cherokee Park: Located between I-64 and Lexington Road. Divided in half to allow one side for all dog use and one side for small dog use.
c. Sawyer Dog Park at E.P. Tom Sawyer State Park: An off-leash dog park in Louisville. The park spans across approximately six acres and is divided into three two-acre areas: one for small dogs (dogs under 30 pounds) and two for all dogs.
d. Vettiner Dog Run at Charlie Vettiner Park: Approximately two acres and is divided in half to allow one side for all dog use and one side for small dog use. New gazebo in place.
e. Old Louisville Dog Run at Toonerville Trolley Park: Two-acre park located in the heart of the Old Louisville Neighborhood at the intersection of Oak Street and Brook Street.
f. Barklands of Flyods Fork: The first off-leash dog park within The Parklands of Floyds Fork. The area is divided into three areas: Small Dog, All Dog and a resting area, which will be rotated frequently.
g. Elizabeth Cleland Cauley Dog Park at Wendell Moore Park: The first official off-leash dog park in Oldham County. The dog park is approximately 2 acres and is located south of the Oldham County Dispatch building across from the softball fields.
h. Waverly Dog Run:The Waverly Dog Run is located at the end of Waverly Park Road. The run is approximately an acre and a half and is not divided so there is only one area for all dogs. The area is past the lake area and is in the woods.
—————–
2. Other dog park areas not affiliated with the LDRA:
a.
Jeffersonville Dog Park at Highland Park
: two areas for smaller or more timid dogs, as well as an all dog area. There is also drinking water, walking trail, benches, picnic tables, and a pergola.
b. Michael Kay's Bark Park in Red Orchard Park at 704 Kentucky Street, Shelbyville: two areas for small dogs (under 30 lbs) and larger dogs. Permits are required.
c. The Norton Commons community in northeast Louisville Metro features a couple of off-leash areas. Residency within Norton Commons is not required but you are required to register. For more information click here.
d. Hays Kennedy Park in Prospect has a dog exercise area; dogs must remain on a leash.
—————–
3. Louisville has over 120 parks. Here are a few local parks where dogs frequent:
Iroquois Park, Cherokee Park, Waterfront Park, Shawnee Park, Central Park, Taylorsville Lake State Park, McNeely Lake Park, Jefferson Memorial Forest, Algonquin Park, Creasey Mahan Nature Preserve, EP Tom Sawyer (the non-dog park areas), and more. See http://parks.ky.gov to find more State Parks.
4. Here are some of the local trails and parks with dog-welcome trails I've visited:
Anchorage Trail, Tom Sawyer walking trails, Waterfront Park, Central Park, Cherokee Park, Shawnee Park, Seneca Park, Carrie Gaulbert Cox Park, and Creasy Mahan Nature Preserve.
5. There are a lot of bars and restaurants with patio or sidewalk seating that welcome dogs. Some of the restaurants I've heard of: Jason's Deli, Moe's, Flanagans Ale House, Checks Cafe, J Gumbo's outdoor seating, Nancy's Bagels, Quills Coffee, Osaka, Vines and Canines and El Mundo.
6. There are also some animal friendly stores in the area other than the obvious Petsmart or Feeders Supply. Leashed, friendly dogs are welcome in Bass Pro, Half Price Books, and Tractor Supply Company.
7. Some bank drive-thrus and Java Brewing Company both hand out dog biscuits to visiting pooches driving through.
8. Dinosaur World welcomes well behaved dogs on a leash!
9. Mellwood Arts Center has always been very dog friendly.
10. The Louisville Bats always hosts the very popular Dog Day at the Park games at Louisville Slugger Field. Each year the event strives to raise money for our furry friends and the Kentucky Humane Society by allowing fans the opportunity to bring their dog(s) to the ballpark on specially selected game dates.
11. The 'Red Trail' is a moderate length trail in the Horine Reservation section of Jefferson Memorial Forest which has had a special "Howl at the Moon" guided tour for you and your dog (fee is $6 per dog) each year.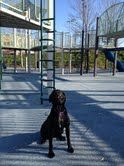 12. Shakespeare in Central Park is dog friendly, being an outdoor play.
DISCLAIMER: Before you visit an establishment or place, please contact them and verify that they are still dog-friendly and available, as policies and management change frequently.
By guest contributor: Caryn
Updated 3/2015