Weekend Getaway Options in Warren County, OH
Warren County, OH is just about 30 minutes northeast of Cincinnati and a totally easy drive from Louisville since I71 goes straight through Warren County. The Warren County Convention & Visitor's Bureau so graciously invited and hosted my family and I to visit some attractions in their fine county and report back to you on them. They call it "Ohio's Largest Playground" and I wanted to put them to the test so off we went for a weekend excursion. It took us just about 2 hours to arrive at our first destination.
This laser tag and indoor gaming center is located in a small shopping center at the same exit for Kings Island and Great Wolf lodge making it easy to pop in for some fun. This fall (2013) they are opening a bigger location with a trampoline park as well. We went there first at around 10:30 am and with the exception of a birthday party, the place was all ours. The kids loved the arcade games while we waited for our slotted laser tag time. Before noon on Saturdays, it's all for kids under 12, I thought that was a great idea. They have munchkin madness from 10 am to noon on Saturdays and the littler ones can play unlimited for $12. This is a good deal considering normally, it would be $8/mission.
When it was time for our mission, we entered the briefing room to learn the rules. Then, we were assigned teams and headed in to get our vests. I was able to hang my purse in that room and it was locked during the game. You hold the laser gun in a certain way to make it active and you shoot at the lit vests of the opposite team. Your goal is to hit their vest to earn points. After the game, you can check your score on the screen outside. The mission lasted around 15 minutes and was an absolute blast. My husband and I, as well as our children and all of the people in their playing that session were really having fun!
Also, I loved that it was so close to Great Wolf Lodge and we could fit in a game before we headed to the hotel which we could not enter until 1pm to access the water park.
This was our second time staying at Great Wolf Lodge in Mason, OH. Read our review from the first trip here as I won't recount all of the same things again. We checked in right at 1pm and it was pretty empty. I highly recommend checking in at this time and getting to the water park because from 3-4pm, I saw a line at check in and at 1pm when I checked in, it was a breeze. Also, our room was available at 1pm and we got it early! Not a guarantee, but definitely convenient.
We had a standard room with 2 beds, a small living area and bathroom and the microwave/fridge/freezer. I really like that they have these options in all of the rooms because you can really save money by bringing some drinks and items for lunch or breakfast. The freezer has enough room for smaller items, but not something larger like a pizza or tub of ice cream. Everything is our room was clean and we had a great patio overlooking the outdoor pool and a peek at Kings Island which was awesome because we were able to see their 10 pm fireworks!
Upon entering the water park, the guard measured our kids and gave them color coded wristbands so it was clear which slides they could go on. We also picked up towels – fantastic not having to worry about that. The kids loved the whole water park, especially the tower with the medium sized slides and all of the gadgets to twist and pull to squirt off water. There are water options for kids (and adults) of all ages. There are multiple bathrooms as well as a locker and changing area with showers. The outdoor pool was also very nice and had a large shallow area that's great for younger kids but it was only about 77 degrees the day we were there so we staying inside. Also note, if you are not there right at the beginning of the day, it's a bit difficult to find a spot to claim for your stuff. We just found one chair to put all of the towels on and leave our shoes under.
We played in the water park for about 2 hours and headed back to our room to get ready for our next adventure! Bonnybrook Farms!
Click this photo to see ALL of
Bonnybrook Farms photos in a slide show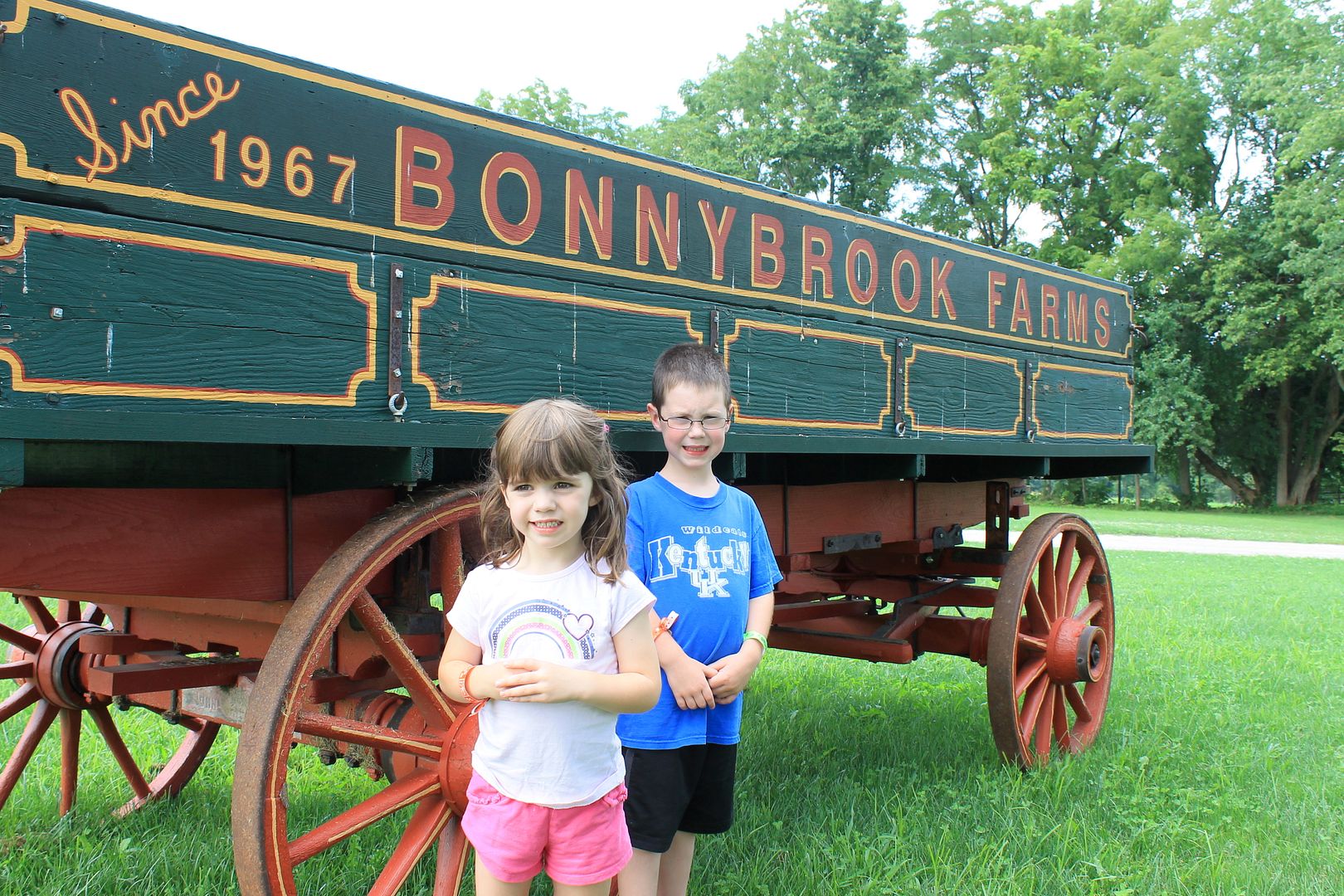 This was the highlight of our trip – no doubt. We left Great Wolf Lodge and arrived at this lovely farm about 30 minutes later. It as a cute country drive. The farm offers seasonal events and during the summer, it's the Chuck Wagon Dinner Ride. It's $30 for adults, $17 for kids 4-12 and children 3 and under are free. I also hear their fall events are unparalleled.
Folks can arrive at 5pm to play farm games before dinner. Games and activities included: clodhopper golf, giant slingshots, large sandbox, horse swings, giant slide inside of a hill, a pretend little western town and train, catch and release fishing (bring your own supplies, those fish were biting!), a stable full of horses and other animals and just a lot of room to roam and run. We loved it, my son was obsessed with the giant slingshots as were most of the kids and I really enjoyed the scenery. There are drinks out for when you get thirsty from all of that playing! Note, the only bathrooms are porta potties but I can say, I believe they are the cleanest porta potties I have ever used and they have a sink station right outside.
At 6:30pm, the owner, Bonny, rang the dinner bell and everyone lined up for country fixin's. The line moved very quickly and everyone filled up on coleslaw, potato salad, mac 'n cheese, and pulled chicken or pork sandwiches. There's also hot dogs if the kids prefer those. There was ample condiments for getting the items just right and chips for snacking too. Everyone sat in the gorgeous open air barn at picnic tables and there wasn't a single family who wasn't absolutely soaking in the wonderful family time and savoring the good food. It was all delicious, particularly the coleslaw – tangy and so fresh. After the dinner, my kids ran off to play a few more games and then promptly at 7:30, everyone loaded 3 tractor wagons for a ride out to the campfire.
Bonny came aboard each wagon and told guests about her farm, some history and things to see along the tractor ride. It was a wonderful bumpy ride through the enormous farm, as it should be, and a perfect way to end the evening. The tractor pulled up to a little spot near the river on the farm where a chuck wagon was set up with drinks, coffee and dessert options. Multiple fires were going for toasting marshmallows with benches all around to sit and enjoy the evening. Families grabbed their s'mores ingredients, cobbler, cookies and beverages and finished off the night with the sweets and an awesome backdrop of the river on one side and the farm land on the other, a deer even paid us a visit off in the field. This was the buggiest area of the farm so you might want to spray yourself and the kids with some repellent, we didn't notice many pesky bugs over by the games and dinner, surprisingly. Also, the gadgets they have for roasting marshmallows are metal. They have handles but despite me telling my 4 year old twice to only hold the metal, she did touch the metal and get a small burn so watch the little ones closely! Nothing a fresh cookie couldn't heal. Let me tell you, save room for the cookies. Their chocolate chip cookies were so gooey and perfect. I ate….too many.
The night ended with a tractor ride back up to the main barn and Bonny thanked everyone for coming out. All of the families were smiling and so pleased with how much fun everyone had. This is not just an activity to check off your list of things to do, it's family bonding ya'll. They have seriously good stuff going on out on Bonnybrook Farm. We drove back to Great Wolf Lodge, watched the 10pm fireworks over Kings Island from our balcony and retired comfortably for the night.
We awoke and had breakfast in our room, an extra latte from Starbucks in the gift shop of the hotel (which was really not made well, but hopefully that was a fluke because for over $5, you better make a good latte) and headed to the water park for an hour of swimming. You can swim all day even after checking out but we had day plans so we just swam for a bit. We loaded most of our items in the car, the check out was automatic at 11 am, and we brought just a change of clothes with us to the water park. We entered right at 10 am when it opened and it was perfect to be there when it was less crowded – went straight to the tube slides since there was no line! At around 11:30 am, we changed in the family locker room and went to McDonald's right down the road for lunch since it was cheaper than eating at Kings Island – our next stop. This is a VERY busy McDonald's. Then, we returned to park at Great Wolf Lodge and walk over to Kings Island.
Kings Island is just a short walk from Great Wolf Lodge and when you stay there, it will save you the $15 parking fee. The park is open seasonally and you can usually find good deals on tickets at Kroger and sometimes they have special prices for certain times of the year. Also, it's cheaper to visit after 5pm and if you want to go two days, you can buy a combo ticket that's a better deal than buying 2 days individually. If you don't get a discount, the prices are $39.99 for adults and $33.99 for seniors/kids. (They define kids as those 3 and up or under 48″ tall so apparently kids under 3 are free).
This park is set up with one area for the little kids (Planet Snoopy), the water park (Soak City) and the rest of the park. The park is very big and you can get a map when you get in or you can search your app store on your phone for Kings Island – they have an app that has show times/locations and park information. I found the app really useful for show times and locations. We had only about 6 hours so we did not go to the water park but from seeing it, Soak City appears to have many slides of all sizes and wave pools that everyone would enjoy. Next time, we'll be sure to check it out.
My kids are 4 and 6 so we spent the majority of the day in Planet Snoopy and at the shows. We saw a Charlie Brown show in front of the tower in the main part of the park by the fountains and a jungle themed show at the stage in Planet Snoopy later in the day. My kids bopped to the singing and laughed with the characters; it's a great excuse to sit down. As for rides, the Planet Snoopy lines were modest. Within that park, there were a few more popular rides that commanded about a 20 – 30 minute wait but most of the smaller rides had fast moving lines. My daughter loved the carousel (as always) and my son says that the Woodstock Express ride was his favorite. I thought it was awesome that they have a small splash area in Planet Snoopy so if you are there on a hot day but don't want to do both part of the park, you can still cool down.

The lines for the women's bathroom were always long, prepare for that and encourage your children to let you know right away when they need to visit the restroom or send boys into the men's room – always faster. My daughter waited until it was an emergency and I had to cut a poor tween off for the family restroom and apologize to avoid an accident – we couldn't wait in the regular line! Poor tween just looked at me and nodded since I was clearly a crazed mom on a mission.
We didn't eat at the park. We got the $13 (my eyes just popped out of my head) souvenir cup and shared and got free refills all day and then the kids got a treat later in the day. I avoid spending money on food at amusement parks as much as I can. Treats are always a bit more my speed -ice cream was about $5 and my son got candy for about $3. We ate dinner in the car on the way home, it was cheaper, healthier (I packed sandwiches in a cooler) and with limited time, we didn't want to spend a lot of time eating at the park. However, it was a really gorgeous day and we saw many families at tables in the middle mall area of the park enjoying outdoor dining.
We ventured out of Planet Snoopy for just a bit at the end of the day to explore. The rides in the main park are impressively fast and huge. My kids were not tall enough for many of them but they got a thrill out of watching the riders zoom on the tracks. They have a new ride called the Diamondback and apparently it cost $22 million dollars to create and on one of the drops, you go 80 mph! I found the park to be clean and well maintained. It was really crowded but I can say, I was probably there on the most perfect day weather-wise and it was a weekend.
Digression: To compare to say, Holiday World, price wise, I think it's a wash. Kings Island is cheaper for admission but a tad bit further, they charge for parking and I felt the food options were more expensive (no free drinks either). So in the end, you would likely spend around the same at each by the end of the day. Attraction wise, my kids enjoyed Holiday World more as a whole because they are younger and the children's rides at Holiday World are dispersed all over the park. But, for older kids, I think Kings Island is more attractive because the rides are really impressive and the scene all together has more of a traditional amusement park buzz while Holiday World is well, cute. Kings Island=cool, Holiday World=cute, to make it simple. Both parks are worth visiting and we are lucky to have two within driving distance.
To end our whirlwind Warren County, OH 2 day getaway, we walked back to our car at Great Wolf Lodge and headed back south on I71. The drive was a breeze, ample options to stop for gas, bathroom, food and we took a deep breath and turned up the music while the kids fell asleep.
Definitely explore the Warren County Visitor's Bureau website to see the options for a 3 day weekend. The 2 day getaway was fast, 3 days would be perfect!
Stephanie