A Family Getaway to Pigeon Forge, Tennessee
Back in July, my family and I were given the privilege of representing
Louisville Family Fun
on a hosted travel assignment to Pigeon Forge, TN for a mini-getaway. We stayed 3 nights and 4 days in this tourist's town and thoroughly enjoyed every minute of it. And boy were those a busy 4 days worth of minutes.
We arrived on a Tuesday in the early afternoon; because we were hosted by the My Pigeon Forge tourism department, they scheduled us to stay mid-week and be there during the non-peak days (i.e., the weekend). If they have a non-peak time, we didn't see it! This place was jam-packed full of people, from everything to families with young children and older children and teens alike, to young couples, to church youth groups, to older, retirees.
We started our first day by stopping at the Sevierville Tourism Center and the Pigeon Forge Visitor's Center and Tourism Department. There are a couple of tourist/visitor's centers along your way into Pigeon Forge. We picked up some brochures and other pertinent information about Pigeon Forge, the Great Smoky Mountains National Park, and the surrounding area. Sevierville is a small town on your way into Pigeon Forge and it has its quaint feel to it; we did not spend any length of time here (on our way out of the city and back home we did stop at the Russell Stover's Candy Outlet store here and picked up an entire box of one of my favorite candies!) After we drove through Sevierville, we continued down "the Parkway" as its known in this area toward Pigeon Forge. Once the traffic lights on this road turn to #0, you are in Pigeon Forge. This is a nice feature of the city – each traffic light along the Parkway (or "strip" as its also known) is numbered right above the light and it helps you keep track of where you are and how to navigate where the many attractions are in Pigeon Forge. When asking for directions to a particular place, many people would say it's at Traffic Light #4, for example.
After we drove down the Parkway and got the lay of the land, we ventured to Traffic Light #6 and turned off to where our hotel was located. Since we were guests of the Pigeon Forge Tourism Bureau, we received our lodging complimentary and were give a suite at the MainStay Suites. It was a great property, I highly recommend it for families especially with younger kids. The room had two queen beds, a kitchenette complete with a refrigerator, stove, dishwasher, and microwave plus ample cabinet and drawer space, and a balcony. The hotel amenities included four pools and two whirlpools and an exercise room. A hot complimentary breakfast was served each morning that included a waffle-making station (kid-friendly, bear shaped!) sausage, biscuits, gravy, cereals, hard boiled eggs, and the usual assortment of continental items like bagels, pastries, and breads. It was definitely enough and then some for anyone. From the website, a one-night stay at this hotel costs $129 without any deals or coupons involved.
We arrived before we could check-in, so once we saw where the hotel was located, we drove back out on the strip in search of a restaurant property we had heard of called Applewood Farmhouse Restaurant. We found it very easily a few miles back up the strip nestled in a little valley. It reminded me of Joe Huber's Family Farm here in Louisville. There was a restaurant, a winery, an apple cider and gift shop, an apple orchard and an ice cream shop. We splurged a little bit at this restaurant and ate for a family of four for $33 before tax and tip. They had a great kid's menu and many fixins' like chicken dinners, green beans, and mashed potatoes, along with the most delicious apple fritters and apple butter. I got a chicken salad plate on greens with fruit and my husband got a chicken dinner. My daughter and our toddler ordered corn dogs and macaroni and cheese off the kid's menu, which also came with a dish of ice cream and a drink. After eating and walking around the gift shop and orchard, we got back in the car and drove back down the Parkway, mentally checking off all of the tourist spots we definitely wanted to check out. We went back to the hotel and checked in, and went swimming for a couple of hours. There was a regular size pool, a lazy river pool, an infant/toddler pool, and another indoor pool. Plenty of options for our family!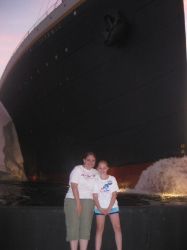 After our pool time, we got ourselves ready and headed back out to the action. It was early evening by this point and we decided to check out the Titanic Museum first. Since we had eaten a late, very hefty lunch, we decided to wait and get a lighter dinner later. This museum was very cool, especially interactive enough for older kids 5+ probably. Our visit to this attraction, along with most of the other places we went, was way over the head of our youngest who is just barely 2 years old. I believe he fell asleep in his stroller for the duration of our walk through this museum. There is a lot of the back story about the ship Titanic, and many artifacts, photographs, and history lessons to learn about throughout the exhibits. My daughter is 10 and is fascinated with the Titanic, so I knew she would love this one. When you arrive outside, a greeter hands you a boarding pass with the name of a passenger, and at the end of your journey you get to find out if your person survived or not. It's a neat souvenir to take back with you. Our favorite parts of the museum were the water pool, where you could touch the 28
degree water that the passengers endured. We tried to see how long we could stand
to keep our hand in the water – less than 30 seconds. Other favorites were the water trapped behind one of the elevator doors in the 3rd class area of the bottom of the ship and the mirrors in the 1st class that allowed you to see how long the hallways were. We also loved the replica of the grand staircase, which was done in exact measurements to the actual ship.
The museum excursion took us 1 1/2 hours to walk through, so keep that in mind for younger ones. After we left Titanic Museum, it was around 8pm and we decided to head to a local grocery store and buy a few snack and lunch items for our room. We bought fruit, deli meat, cheese, milk, and the like and when we got back to our room we made some eggs and sausage in the kitchen and had some fruit with it for dinner. I really appreciated the convenience of having the "home away from home" essentials like this, which made staying here very family-friendly. With the options we had of free breakfast and groceries in our room, we only ate out at dinner times during our whole stay. Families can certainly save a lot of money that way! We turned in and got an early start the next day, which was jam packed!
We woke up bright and early the next morning and ventured downstairs for the free, hot breakfast at the hotel. We then got ready to embark on our full day of fun and began the day at WonderWorks, a quirky, bizarre-filled museum of awe and wonderment for all ages! I mean, when you walk up to the front door, the building is creaking at you and the entire thing is upside down! WonderWorks is a very stimulating, loud, bright place: think Kentucky Science Center to the Xtreme 10th power! When we walked inside, you slither your way through a dark tunnel with flashing lights all around you and you feel like the floor is moving, forcing you to tip all the way to your left side. In actuality, you're completely upright. Heard of the television show, 'Brain Games'? This place was all about tricking your mind and playing optical illusion games with you each step of the way. As you enter the first room, there is an electricity game that sounds off pulses of light about every 30 seconds. Our young toddler had enough (of the stimulation) after 30 minutes! He endured though, just like he always does! In this first room there was a huge Google Earth map that we spent quite a few minutes navigating and finding Louisville, and other places we've visited in the past. There is an experience called "Quake Cafe" where you are placed into what an earthquake would feel like in San Francisco. There is also a hurricane tunnel with winds blowing at you at 65 MPH. It's a lot of fun!
The entire science museum took us about three hours to get through, really taking in each area. Other areas to explore are a challenging ropes course, lazer tag, the space zone, bubble lab, a bed of nails…the list could go on as there are over 100 interactive exhibits to explore. On this same property of WonderWorks is the magic show entitled Wonders of Magic that you do not want to miss. We came back the following night to see that show, and it was worth every second. It's an extremely family-friendly magic show with many illusionist and slight of hand tricks that will keep you wondering for days. We really enjoyed the magician, Terry Evanswood. He was phenomenal. Wonders of Flight is also located directly behind WonderWorks. It is a giant tethered balloon ride that was widely popular – my family did not ride this one though.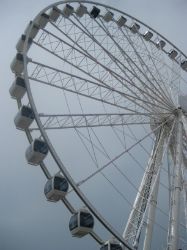 Throughout the remaining two days that we vacationed in Pigeon Forge, we played miniature golf at a putt-putt place called Firehouse Golf. One note about putt-putt: you will see a golf place about every other site on both sides of the Parkway! Some are very elaborate while others are simpler. You'll have plenty to choose from though! We also rode the giant ferris wheel at The Island, a neat, newer shopping and dining district that opened up earlier this past summer. It was pricey to ride, and my daughter really wanted to so we bit the dust of the tourism bug and paid the price. The ticket lady told me it was about a 15 minute ride, but it really ended up being about 9 minutes. It is the one of the tallest attractions of its kind east of the Mississippi River in the U.S. and it was a spectacular view of the area. We also spent a good 2-3 hours of an afternoon at The Track, one of those entertainment centers that has bumper cars, arcades, go-karts, more golf, bumper boats, and little kiddie rides. There are a lot of options at this type of attraction, and there are just as many of these as there are mini-golf places all along the Parkway. The Track was awesome fun, our highlight was driving and zipping around on the go-karts. We also checked out Hollywood Wax Museum. It was great, especially for older kids who are familiar with some Hollywood stars. At the end you can enter a celebrity you'd like to see added to the museum-we picked Kate Winslett and "Sheldon Cooper" from Big Bang Theory. This museum didn't take as long, probably about 30-45 minutes and was a nice, cool place to wander around.
There are several dinner shows for families and those without kids – Pigeon Forge is sort of known for doing these types of dinner theatre shows and there are plenty to suit your fancy. My family and I opted for the Lumberjack Feud show; we did not partake in the dinner portion but that is an option. When you walk into the huge warehouse building, you will be greeted by a host or hostess who tells you that you are either a McGraw or a Dawson. We ended up being McGraws, and all that really means is determining which side of the theatre you sit and which family you are going to root for during the feud! It's a rousing, entertaining show full of lots of action with ziplines, saws, log rolling, and dog tricks. We had a blast at this show, and I highly recommend it.
Other tips about dining: we ate dinner on the other two nights in Pigeon Forge at
Bennett's BBQ
and
The Old Mill Restaurant
. Our bill at each of these came to between $30-35. Bennett's was very good. I loved the sticker sheet they give to kids as opposed to the same old coloring sheet you're used to. My kids loved that and used the stickers on themselves to make goofy faces and make the time pass by. The Old Mill Restaurant is located at the
Old Mill District
and was also very good and affordable. Almost every restaurant we ate at, the kids meal came with a dish of ice cream. I really loved how kid-friendly all of the restaurants we went to were, they obviously are used to catering to families in this city and it shows. The Old Mill District is an extremely neat place to walk around and get pictures by the Old Mill. It is the original mill that has been working since 1830. A neat insider's tip: the flour and corn meal used in their food and baking is milled on site to this day. The corn fritters with butter that tasted like syrup were scrumptious! After eating our late afternoon/early dinner, we had a special treat of ice cream at the
Old Mill Creamery
. It was reasonable, as were all of the prices of food I saw-they were all pretty comparable to what I see in Louisville restaurants. After we had our ice cream and watched passers-by in their nice outdoor seating area, we walked into the
Old Mill Pigeon River Pottery
and sat down to watch a potter at work. My daughter thought that was really cool. Be sure to check it out! There is also a neat candy store and toy store and a few other cafes here. Also, eat at one of 17 pancake houses through the strip. We ate at one called Reagan's House of Pancakes. They all seem the same to me!
On our last day, we checked out of our hotel and packed up our van, then headed to do some sightseeing at the
Great Smoky Mountains National Park
. What a gorgeous park, with so many hiking trails of varying degrees of difficulty and length, and nature to discover. The day we were there was so neat because the temperature kept dropping as we climbed in altitude and we walked around quite a bit at Newfound Gap, which is near the Tennessee/North Carolina border. I recommend driving all the way up to Clingman's Dome, and take in spectacular views from the overlook. There is a lot of history about the Smokies, and we learned how they got their name and a lot about the logging tradition and way of life for families way back when. We actually learned a lot of that throughout the Lumberjack show.
Here is the approximate pricing for adult and child's admission to all of the attractions mentioned (most attractions have free admission for children under age 4) Plus you can save if you buy advance tickets online through individual attraction websites:
Titanic Museum: $22/$11
WonderWorks: $22.99/$14.99
Wonders of Magic: $14.99/$14.99
Wonders of Flight: $15.99/$9.99/3 and under free
Firehouse Golf: $10/$6
The Island: $13/$9/2 and under free
The Track: $48 average for Great Value Pack (rides are on a point system)
Hollywood Wax Museum: $17.95/$8.95
Lumberjack Feud (show only): $26.95/$7.95
As you can see, because we had a tourism V.I.P pass to be able to experience a lot of the attractions in Pigeon Forge, we did a lot. I was hoping to experience some of the main museums and report about what was really cool, and honestly, they all were. But I would say for much younger children, The Track or other places like it would be the #1 pick for that age range. For 4-8 years, they'll absolutely love WonderWorks. For kids 9-12 years, all of these are suitable. If you have teens in your family, I think they will also enjoy all of these, plus there are other options like MagiQuest, indoor skydiving, or Hannah's Maze of Mirrors. Your whole family will enjoy the Wonders of Magic. If your family is more of an outdoors/adventure taking family, spend more time at the national park. There are tons of trails and I did hear about this area called Cherokee where they do reenactment type of scenes and kids can go swimming in the creeks. They also do bonfires and those types of things as well. Of course, if you like shopping, there are plenty of tourist-y shops along the entire strip, plus the Tanger Outlets shopping area right between Sevierville and Pigeon Forge.
Click on the first photograph for a slideshow of highlights!
You won't be bored, trust me. Pigeon Forge is about 3 hours away from Louisville, a very easy drive and very family-friendly. There is a trolley service that runs from anywhere along the strip with stops every 15-20 minutes, 9am-midnight everyday. It's $.50 per trip/per person or you can purchase a daily armband for multiple trips for $2.50. We drove everywhere because of our little one, and it's all very navigable. Some good advice to sum up: you can't do everything there is to do in Pigeon Forge the first time you vacation there. We packed in a TON of things to do, but normally we would have done one, (two tops), major attractions a day. One of the travel agents I spoke with about Pigeon Forge told me that most folks who visit Pigeon Forge come three-four times a year. They go for long weekends and keep coming back, and do something different each time they go. Your family can definitely do something different and have new memories each time. We can't wait to go back again!
By guest contributor: Erin