LouFamFun $10 Challenge – September
A week of after school adventures-using only $10!
I did a lot of thinking and researching once I heard I was given the $10 challenge. I wanted to do something that would take myself and two kiddos around to various places all over the city. But, that's hard to do when you are working around two different nap schedules. So, with the start of preschool last week, I decided to try and do an adventure everyday after school to celebrate their first week back. This was a lot of fun and I may do this again for a birthday week. Here's what we did:
Monday
– We hit up
Plehn's Bakery
for a cookie and a handful of their mint meltaways. I love it there because it has such an "old time" feel. There's plenty of "eye candy" in their cases of baked goods for the kids to see. Afterwards, we took the short drive to
St. Matthews Eline Library
where I let each child choose a book from its sale corner. The sale of these books benefits Friends of the Library. It's a bargain at .50 per book! Spent: $3
Tuesday
– I redeemed a coupon for a free ice cream at Chick-Fil-A leftover from the Lyndon Family Festival. I bought an additional child-size cone for .90 as well and we headed over to the
St. Matthews Community Park
(directly behind Chick-Fil-A). What a hidden gem of a park! Their equipment was new and different and had baseball fields galore. We wandered to the back of the park to the exercise path-which we renamed the "forest" and took a "hike". There were lots of bridges to throw sticks from, completely surrounded by trees and a paved pathway throughout. Spent: $.90
Wednesday
– We are members of
My Gym
, so on this day we took advantage of our free access to free play. Non-members are also welcome for $5 per child. We have been enrolled here for over 3 years. Both of my kids love it!
Breadworks
is only a few stores down from My Gym, so next we had races down the sidewalk to grab our free samples. The staff here is always super friendly. Spent: $0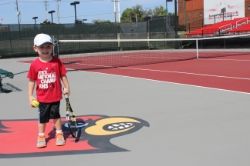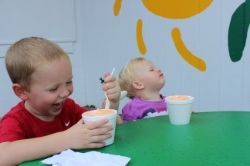 Thursday
– This adventure took a bit more planning, but worth every minute. My four year old is obsessed with all things tennis and is a big CARDS fan. I called the
UofL tennis club
and they allowed us to come visit. We got to watch the team practice, take a walk around their facility, and even got to hit a few balls on an empty court-FOR FREE! Tennis may not be everyone's cup of tea, but it may be worth checking with the other athletic departments-either at UofL or other universities such as Bellarmine for practice times. Afterwards, we cooled down at
Dairy Kastle
with dreamy orange ice cream. Spent: $3
Friday
– We opted to check out the
Flea Off Market
this day. It wasn't that crowded, which was a bonus for us stroller users. I let the kids peruse around and look at everything. My eldest was most excited about the Ultra Pop booth-wielding lots of Star Wars and anime themed toys and candy. There was a group performing belly dancing, but mine didn't seem too interested in that. Ultimately, we decided to use the remainder of our $10 on some amazing doughnuts from
Hi-Five Doughnuts
. One word. YUM. Spent: $3
The remainder .10 I plan to let the kids use at the Zoo or Science Center's spiral penny donation well.
Thanks for a fabuLOUs week, Louisville Family Fun!
By guest contributor: Jennifer