Review Kentucky Science Center, Science in Play Exhibit in Louisville, KY
My toddler and I recently joined Ms.LouFamFun and her two kiddos on a rainy day in downtown Louisville. She invited us to check out the return of Kentucky Science Center's, Science in Play exhibit. This exhibit was at the Science Center last year, and it has returned and will be moving permanently into the Center's exhibit space.
We arrived bright and early as the Science Center was opening, and had the place to ourselves for a good 45 minutes or so! The Science in Play exhibit is currently housed on the first floor, in the temporary exhibit space right next to the KidZone. There are five main areas to play, engineer, and use your brain! They are a Sensory Course, Getting Moving and Small Build, Testing, Big Shapes, and Shapes and Stuff Store.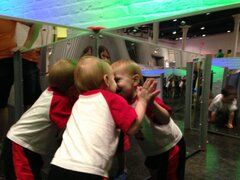 The LouFamFun kids are ages 4 and 6; my little guy is just about to turn 2. He had fun sprinting around the space, rolling balls, climbing under the ropes course, and playing in the mirror maze. The LouFamFun kids are the perfect age for this exhibit. They built roller coasters and used their minds to problem solve and figure out what pieces needed to connect where, disassembling pieces where needed, and just trying to get just the perfect set up for the right momentum for the ball to make the entire loop and span of the coaster. It was fascinating watching her son as an architect, building and rebuilding to get it just right.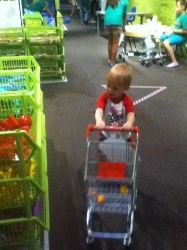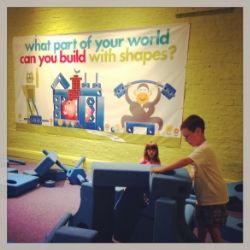 We stayed in the first room for a long time. In this room is the above mentioned roller coaster making station, along with a fun mirror maze, a ropes course mat where kids try to figure out how to cross from one side to the other sticking with the same color ropes, a huge mirror with wooden blocks for building, and a large magnetic space on the wall with fun cups, spoons, pails, etc. for kids to experiment making different designs.
All of our kids really loved this entire area; my little boy really liked the magnetic space and pulling the spoons off and sticking them back on! He also loved the musical sound floor, where you move your hands over the space and make music! We then ventured to the next room, which is adjacent to here. In this room is the Big Shapes and Shapes/Stuff Store area. Once again, the LouFamFun kids just went at the huge foam blocks in this area, building and assembling to their heart's content. My little boy immediately saw small, toddler sized grocery carts and went to grab one. In the Shapes/Stuff Store, kids can grab a huge shopping list card that is color coordinated and you can go shopping for the shapes listed on your card. When you're done grabbing all of your shapes and colors, you can follow the directions on the card to build a new shape out of the shapes you've shopped for. It's a really neat concept! Of course my under 2-year-old didn't quite catch onto that concept, but loved looking for the colors and naming them things that he is familiar with in his own world, like orange balls became oranges and yellow shapes became bananas. This was a very fun space, a great place for kids' imaginations to run wild. There is also a nice little reading nook in the corner, for some quieting down time for your kiddos.
All in all, visiting the Science in Play exhibit was a huge hit. Of course, after you've had your adventures there, the rest of the Science Center awaits you. We also took our kids over to the ever popular KidZone space, where they played and had a blast. My son and I had to get home to lunch/naptime, but the LouFamFun family stuck around and explored the rest of the center, stopping for a packed lunch that they brought along with them. The Kentucky Science Center is a very engaging, educational center in the heart of our downtown, and it's the perfect place to spend an entire day learning! I would recommend this exhibit for kids ages 9 and under, although we saw kids of all ages exploring in their own ways; there were even some older kids that may have been middle school aged there the morning we went and they were really enjoying themselves as well. The entire center is geared for a wide range of children, of course.
The Kentucky Science Center is located at 727 West Main Street. Click here for hours and admission prices. Remember you can visit the Center for $5 after 5pm on Fridays and Saturdays. The Science in Play exhibit is included in your general admission.
By guest contributor: Erin