Review of Mighty Titan Mud Run: a Race for Kids
My 7 year old son ran in the Mighty Titan Mud Run. It's a youth version of some of the latest, crazy 5k obstacle courses for adults. According to the website, the Junior Titan Race is a ".75 mile course full of mud and exciting obstacles to challenge ages 4-8, and the Varsity Titan Race is a 1.5 mile course that will put your overall strength and endurance to the ultimate test for ages 9-14."

If you register online before the day of the event, it's $35. You can show up the day of the event and participate for $5 more, but you may have to wait until there is room in one of the heats to run. Our course was being hosted in a local community I had never been to, and I did not see any signs for the Mighty Titan as we wandered around the development for 20 minutes before we found the park. We left a different way, and we did see one sign on our way out of the development, but I recommend leaving early if it's a neighborhood you aren't familiar with. They ask for you to come an hour before your heat, so be sure to find out what time your child is running.

It looked like there were lots of volunteers helping, but with only 2 volunteers checking in, the check in line did get long at times (hence the hour early recommendation for check in). I'm not sure how many volunteers were along the course, but despite the course directions looking difficult to follow as a spectator, I didn't see any kids run off course, and I did see plenty of volunteers helping kids along the course as needed. There was no need to worry about my son getting stuck on an obstacle.
The waves of participants seemed to be anywhere from 10-20 kids at a time. The staff told me they were keeping a maximum of 20 kids per wave, but they also tried to be flexible to change race times at parents' requests as they checked in.
My son dressed in play clothes and old shoes for the course, and I brought a full change of clothes (including shoes and underwear) and a towel which was necessary following the race. You get a paper bib and safety pins at check-in. I recommend putting it on the front of your child's shirt. This makes it easier for the volunteers to know what age group they are in (there are some alternatives along the same course depending on age group), and you get a better, muddier picture and keepsake to commemorate the day.
We brought along a blanket and chairs to sit on, but due to the course lay out, and the need to move around to keep an eye on the runners, we never used them. There was a permanent gazebo structure for the check-in, but only one other tent set up, so there weren't many places to go to escape the rain or sun. Our umbrella came in handy. I brought some activities for my younger child, which was nice to have for our hour wait. There was also a playground available which also helped fill the time.
My son had a great time running the course, but due to the hilly landscape, I don't think I could view half of it. You are allowed to run along the course with your child, but having a younger child with me, I didn't think it was a good idea. My son enjoyed crawling through the mud, going down the zip line, going through the tubes, down slides, over walls and rope structures, and much more.
I was sad there wasn't a bigger to-do at the finish line. I think it's important to be there to clap for your child as they finish. I loved that there was no emphasis on winning, just completing the course while having a good time. But it would have been nice to have lots of clapping for the young racers. After crossing the finish, your child walks over to a table and picks out a necklace or headband. No one was there to tell my son he did a good job, or watch to make sure kids weren't taking more than one prize, but my son is still wearing his prized headband daily. He is so proud of accomplishing the course.
After the race, my son got hosed off by the local firemen who brought their fire truck to the course – he thought that was awesome. There is also a Titan Arena area where the kids are timed as they complete a series of tasks. The fastest boy and girl received a prize at the end of the day. You can do this before or after your race. They even allowed my younger daughter who was not in the race to give it a try. If you forget to pack snacks, they do sell snacks, drinks, and there was even a smoker there with delicious smelling meats!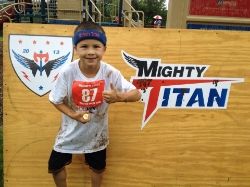 Overall, it was a terrific experience, and my son had a great time. He can't wait to do it again. The price seems appropriate for the event – adult versions can cost twice as much. The next race is Saturday, September 21, 2013. Click
here
for more information. You leave with a t-shirt, necklace or headband, a coupon for a dollar off a local hot dog place, and memories and pictures to last a lifetime!
Learn more about it on this podcast!
By guest contributor: Caryn