Review of Pinot's Palette in Louisville, KY
Recently, we were lucky to be hosted by a paint your own canvas place called
Pinot's Palette
. It's in a strip mall in St Matthews – a very convenient location. When we got there, our names were written in chalk on the table in front of a blank canvas, along with 2 brushes, and the necessary paint on a paper plate. It was nice to have our spots reserved so we could sit together, and the website makes it clear that you can easily request reserved seating next to any other registered painters. Although the tables were not filled, we did not have much room between canvases. We had to be careful to not knock brushes with our neighbor at times!
The atmosphere was nice, warm, and fun. The bar area looked great and there was a wide selection of drinks (you can buy beer for $4, wine by the glass for $6, or bottles of wine). The bathroom was clean and well stocked. They played great, commercial free music throughout the night. There was one large room for painting with a few long tables, and a private room for smaller parties with neat decor and individual easels that looked wonderful.
During the painting, the teacher talked about the regular contests, and talked about a special deal – a $19 painting night if you signed up for the night then. That is a hard deal to resist! They also mentioned an upcoming fundraiser for the Boys and Girls Club that sounded wonderful.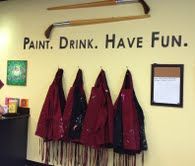 There were a few things I wasn't thrilled about. There was only 1 blow dryer in the room for drying the paintings in between steps. It would have been nice to have snacks available for everyone, but I did appreciate the free bottles of water at the bar. I also felt a lot of the pictures on their calendar had a more cartoonish look, rather than more professional or realistic looking pictures. But they do have plenty of great pictures to choose from on the upcoming calendar.
We enjoyed the painting process, the teacher did a great job with the instructors, and we had a great time chatting while painting with plenty of time in between steps. It's a fun painting place, we enjoyed the night, and we'll have a great painting to remember it by!
By guest contributors: Caryn and Tanya