The Burrito Riders: a fabuLOUs choice for a family volunteer project in Louisville, KY
Surfing the internet for ways to volunteer with the family? Look no further than the
Burrito Riders of Louisville
! The BR has something for all ages! That's right, from the young to the wiser, the Burrito Riders have opportunities for everybody to serve.
Who exactly are the Burrito Riders? The group was started about a year and half ago by a couple, Tim and Amanda, who wanted to join their passions of riding bikes and helping others. Twice a month, burritos are made by the rollers. Then the bike riders pass them out to the homeless in downtown Louisville. Since March 2012, the Burrito Riders have handed out 8,000 burritos!
How can families serve with the Burrito Riders? The wee ones can go shopping with the bigger ones to purchase the supplies for the burritos. It costs about $25 to make about 14 burritos., However, making 2 or more batches of burritos, the price per burrito goes down. The little bit older kiddos can help make the burritos (recipe found
here
). Parents and their older children can join in for the rides on the 2nd and 4th Saturday morning to hand the burritos out to the homeless. If you just want to roll, it is easy to make arrangements for the riders to pick up the burritos from you. If you just want to ride, just show up on Saturdays. They meet (around 8:30am) in the Kroger parking lot on Goss Avenue. The burritos are carried in bike trailers, backpacks and saddlebags throughout downtown.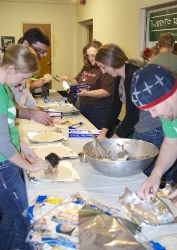 Another fun aspect of the Burrito Riders is hosting or attending a rolling party. Just invite your friends over, have them bring the burrito mix, and the tortillas with them to the party. Then everyone rolls the burritos together while hanging out. A bonus is that burritos can be made anytime that fits your schedule because they freeze well. The mornings of the rides, the burritos are warmed in the oven so they are handed out still warm and tasty.
With 3 young kids (5, 3, and 11 months), I totally understand how hard it is to find kid friendly volunteer opportunities. The BR is a perfect set-up for our family to serve others. It gives us a chance to put our words into action with our 2 older kids about giving and serving others.
By guest contributor: Jeanette