Where to go fishing with kids in and around Louisville, KY – fun for fall!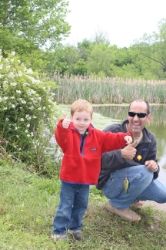 Fishing with kids can be a lot of fun and certainly provide
memories for a lifetime. Louisville and some surrounding counties offer some great places for fishing.  We have provided a list of some good spots including some that offer more than fishing in case the kids need a break.
Great, where do we go?
Thurman Hutchins Park  has a large pond where
fishing is allowed. There are bathrooms, drinking fountains, athletic fields and a great playground. It also sits directly across the street from Cox Park where you can get a great river view.
The Falls of the Ohio offers three different areas for fishing. Don't worry,
your KY fishing license is good here! Two out of the three fishing spots offer
free parking. Check their website for more info on parking options. While
you're there, have a picnic, check out their interpretive center with exhibits
and search for fossils. Can't beat the views here!
William F. Miles Park boasts SIX different fishing lakes. This park is one of the
several throughout The Parklands of Floyds Fork. There are bathrooms, picnic
areas, canoe launches (if you have your own canoe/kayak) and a SAFE and CLEAN
creek that the kids can play in. Take your time and enjoy all that The Parklands have to offer here.
Shelby Lake has 20 acres of fishing fun. From Louisville, it's about a 30-40
minute drive. This lake also offers a campground if you're interested in making
it an overnight adventure.  There are plenty of spaces to picnic and grill out while you
are there. A new playground and bathrooms are available as well. There are a few spots here that you can check out some beautiful historic cabins. (Great photo opportunity!) Shelby
Lake also has several recreational activities including rental boats, paddle
boats, row boats and canoes. Prices for those are here.
Don't let our list confine you-enjoy exploring and fishing!
Check out Metro Louisville's list of fishing lakes here.
What should we bring?
It is a KY law to carry a fishing license. Kids 15 and under
do not need a license. Parents can purchase one at various stores or online here.  We got ours online and printed it at home. It was super easy and convenient online. Don't risk it-get a license! It's $7 per day or $20 for the year.
Bait, Fishing Gear, Snacks and your camera!
Just a few extra notes
KY Fish & Wildlife offers a free basic fishing booklet for newbies that's pretty awesome.  Also, they offer a free commemorate certificate you can print from home to celebrate your kids' big day or first catch.
Most importantly, enjoy the experience! Happy fishing!
By guest contributor: Jennifer