Review of Brown County State Park in Nashville, Indiana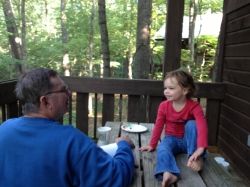 Summer was coming to an end and we wanted one last weekend
away before the hustle and bustle of Fall began. We wanted it to be close, we wanted it to be
fun and we wanted it to be affordable- we found it all in
Nashville, IN
.
We stayed at
Brown County State Park
which is Indiana's
largest state park (and I would vote most fun- although I have never stayed at
any others- but after our trip all other state parks would have a hard act to
follow!). We also ventured into downtown
Nashville which offers a plethora of stores, activities and restaurants. Prior to our trip, I had never heard of
either but it is a forgone conclusion we will be back again! At only an hour and a half from Louisville,
this is a great weekend destination that is beyond family friendly.
We stayed in a family cabin at the park. It slept eight. Our family of four had plenty of room so we
invited my parents along for the trip too. With four adults and two children in the cabin
we had more than enough space. The cabin
had two large bedrooms (one king bed, one queen, and two additional pull-out
couches in the living room), a full kitchen (which is a must for our family due
to food allergies), a big living area with a wood-burning stove- yes we cranked
that baby up in 90-degree weather (what is a cabin trip with out s'mores?), and
a large deck with a picnic table. We
were surrounded by nature and even had little woodland creatures on our deck
every morning, but also had all the comforts of home for a city-loving girl
like me. We had air conditioning and a
hot shower, camping city-style is how I roll.
There was also a TV. It got only
local stations, but did have a DVD player which came in handy when we needed to
keep the girls occupied while we are packing up to leave.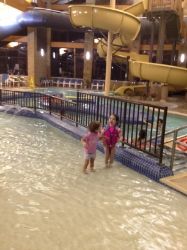 We loved the family cabin, but if a cabin with modern
amenities it not rugged enough for you they do offer a campsite and rustic
cabins, or you can always book a room at the main lodge. No matter where you stay in the park you have
access to all of the park facilities.
By staying in a cabin, we also had access to all of the
great amenities at the lodge. There were
two large lobby/lounge areas that had comfortable seating, a game closet full
of fun games for families to play, and a large screen TV. There was a spacious deck off the back of the
lodge with porch swings and rocking chairs- had we been sans kids I might have
never left this area. The deck area
overlooked a huge fire-pit where they have events like sing-alongs and s'mores.
There were also restaurants and a game room with a ping pong table and arcade
games. The highlight of the lodge,
especially for our girls, was the large indoor aquatic center. It had a zero-entry pool area with fun splash
features for the younger kids, a lazy river, a water-park worthy waterslide,
and an area for water games- volleyball and basketball. We arrived at the lodge before our cabin was
ready for check-in and we were able to use the aquatic center- a fabulous way
to keep the kids entertained until check-in.
We swam everyday and loved that we had an indoor option. There is also an outdoor pool in the park
which you can access for an additional fee.
The park boasts two
lakes, multiple hiking trails, a stable that offers horse and pony rides,
glorious views from the many overlooks and a Nature Center. You could literally spend all day in the park
and not have time to do it all. Our
favorite was the Nature Center. It has
multiple scheduled programs throughout the day on all sorts of interesting
nature topics. There is also a large
hands-on exhibit about many different nature topics, including a number of
animals native to the park and Indiana.
We also loved the bird watching room at the Nature Center. It provided a unique view into the many
creatures of the park.
One of the days of our trip we headed into the town of
Nashville, IN. The town, while small,
has a surprising number of shops, restaurants and activities. Again, you could easily spend an entire day
here taking it all in. We did not eat at
any of the restaurants since both of our daughters have severe food allergies,
but that did not stop us from enjoying the rest of the town. The stores ranged from specialty (art, oils,
wine, Christmas) to those where you can get any sort of vacation souvenir
(think t-shirts, yard art, snow globes).
If you have ever been to Gatlinburg, TN you will find similarities to
the types of shops you will find in Nashville, IN.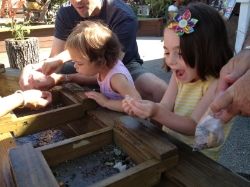 By far, the best and most entertaining thing we did in town
was gem mining at the Copperhead Creek Gem Mine. We got each girl a mining bag (a sand mixture
with gems inside) and they got to pan for their gems on the working sluice
outside the shop. It was so fun to watch
them as they discovered their treasures.
You can buy mining bags starting at around $6 and you can chose to mine
for gems or fossils or both. We got our
girls each a $7 gem bag. For $14 dollars
they got to mine for about 15 minutes (there is no time limit, but they mined
fast!) and each girl took home about 50 gems.
They gave us a chart of the various gems we might find so the girls
could determine what they had actually gotten.
To this day, we are still playing with all of our gems. It was the best $14 dollars we spent the
whole weekend.
I can only imagine how amazing the park would be in all it's
Fall glory. At last check, the lodge and
cabins were all booked for the Fall, but with Brown County State Park being so
close to Louisville it would definitely be worth a day trip. There is a park admittance fee, $5 for
in-state guests and $7 for out-of-state visitors (
2015 update
– fees now $7 for in-state, $9 for out-of-state). We will definitely be back!

By guest contributor: Tami