Review of Des Pres Park in Louisville, KY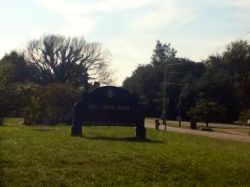 Des Pres Park in southeastern Louisville has quite possibly become my family's favorite park. We love to head there in the evenings when the heat of the day has passed this summer. We absolutely love heading there during the cooler, crisp early evenings in the fall!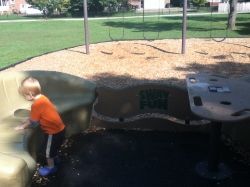 This park has a very laid-back feel to it. It's not brand spanking new or anything, and that's just fine with us. It's simple, has a great walking trail, our kids have a blast at the playground, and my husband and I have just started taking up tennis again at the tennis courts. When our whole family of four goes, our favorite thing is really to bring my daughter's bike and let her ride around the walking loop, which is 1/2 mile for 1 loop around. It's very flat and easy to navigate, so it's perfect for kids' bikes. My husband and I usually walk and push our toddler in his stroller. There are park benches all along the trail and there is lots of grassy space to enjoy a picnic. We do that quite often too, either packing our own or picking up something quick from one of our go-to dining spots.
While my daughter is in school, I have recently been taking my toddler up to the park in his jogging stroller to jog. I like this path for jogging because I'm brand new to jogging and it's a very beginner-friendly place to jog. One loop around is 1/2 a mile and it's flat and is well-maintained. I really like this park because it also reminds me of Seneca Park with it's great playground and a walking/jogging path around some green space in the middle. It's a mini version of that great park and just minutes from the heart of Jeffersontown on one side or the Hikes Point area on the other.
Des Pres Park is part of the Louisville Metro Parks system and is located at 4709 Lowe Road near the intersection at Taylorsville Road. In addition to the walking trail, playground, and tennis courts, there are also picnic tables and a picnic shelter, basketball courts, and some ballfields. The restrooms are fairly clean when we visit. It is open from 7am to 11pm.
By guest contributor: Erin