Review of Jack-o-Lantern Spectacular in Louisville, KY
Fall is my family's favorite time in Louisville. There's so much to do, and we're always
looking for something new. This year we
were delighted to be hosted by the Louisville Metro Parks new event called
The Louisville Jack O'Lantern Spectacular
at the
Iroquois Amphitheater
.
It's a brand new event this year in
Louisville, and it began in Oxford, Massachusetts in 1988. The event, which is held nightly from October
10-November 2, features 5000 carved pumpkins along a ¼ mile trail in the woods,
which totally adds to the spook factor.
Artists were still finishing up some of their carvings on opening night,
which was really cool to watch. They
will be changing out the pumpkins on a weekly basis, so each week will
basically be a new show. The artists of
Passion for Pumpkins have been creating stunning works of art on pumpkins for
25 years, so the show is not likely to disappoint. The "Around the World" themed show features
vignettes from France, England, Germany, Asia, and Kentucky, all set to music.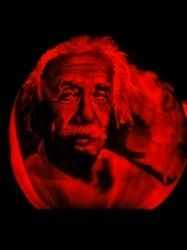 My kids really enjoyed the show. If you have really little ones I recommend a
stroller or wagon, as the terrain is not easy for little ones to navigate. If you have a child who is sensitive to
sensory stimuli, this may not be the show for you. Other than that, the terrain is a moderately
hilly gravel path that is not terribly strenuous and is wheelchair and stroller
accessible. It took us a little over
half an hour to get through the trail. It was fairly crowded, but I don't expect it to be that crowded if you
go later in the evening.
Now for the not-so-great part. For my family of four to attend during the
week, it would have cost $42. On the
weekend it would be $54. I'm on the
fence about this. I don't want to blow
that much of my family's entertainment budget on one show. But then I'm reminded this IS a fundraiser
benefiting both the Metro
Parks System
and Kosair Charities. It is really stinkin' cool and it may not be
back again next year. The cool factor
and the new factor make it a worthwhile expenditure for my family. I mean, you just can't imagine what it's like
to stroll through the dark woods surrounded by so many glowing, intricately
carved pumpkins. Click
here
for more info on pricing. Hopefully
they'll do a Groupon or discount night to make this event more accessible to
more families. Also in the plus column,
it is open until midnight on the weekdays and 1 a.m. on the weekends, so it's a
great end-of-night alternative to a bar on date night. And it might be kind of nice to stroll
through there at a leisurely pace instead of constantly reminding the kids that
no, you cannot touch the pumpkins.
By guest contributor: Maggie