Review of Louisville Food Tour: a Parent's Day "Date" option in Louisville, KY
Date night. Date day. Date time. My husband and I needed one recently! And we were so fortunate to be hosted by Louisville Food Tour one weekend in October for their tours that go through the NuLu district and take participants on a walking tour of some of the most highly sought after restaurants in Louisville, and around the country. We spent a beautiful fall afternoon together, tasting delicious meals and sipping delicate drinks, and had a blast together, alone, without our kids. Usually, we tend to make a square dance out of our outings and have us and our two kids along for just about every ride we take in this city. Hitting the streets of the festivals around Louisville, especially in the fall, is our most favorite thing to do. But every once in a while, we like to be adults, talk to other adults, eat like and with other adults, and play like adults, and we did just that for 2 1/2 hours down on E. Market Street, thanks to Louisville Family Fun and the fabuLOUs lady who invented this idea called Louisville Food Tour. Let me tell you all about it!
Stop 1: Cake Flour – We were given a goodie bag with 3 of their signature items: almond biscotti, their delectable Shortbread cookies, and their famous chocolate brownie. Dessert first? Yes please!

Stop 2: Earth Friends Cafe – We were treated like very important people(!) at this stop! We walked to our table that was already laid out with a lavender lemonade, vegan cupcakes, a 3 bean salad, a vegan Reuben, and a chicken quesadilla. If you are a family with food allergies or are looking for gluten-free options and the like, check this place out. They specialize in that!

Stop 3: Garage Bar – A nice simple stop where we sat outdoors at a picnic table and enjoyed a sampling of their pimento cheese sandwich and their Kentucky-made Broadbent ham slice on toast.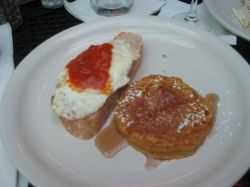 Stop 4: Toast on Market – Oh. My.Word. I love this place! This is the one restaurant my husband and I had been to before, and I'm never unsatisfied here! We got to try their "Toast and Eggs" (not your run of the mill egg and toast either BTW) and their fall offering: pumpkin pancake. This was all preceded by a spiced apple mimosa. YUM!

Stop 5: La Coop – Okay. Let me just say – you HAVE to check this place out! Chef Bobby gave us a personalized tour of his French bistro cafe, from a one-on-one conversation with each of us to a backstage tour of his kitchen. We were give one of their handmade cocktails to sample as well as a crabcake that I just about fell on the floor after devouring. Simply divine.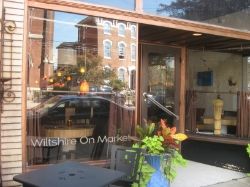 Stop 6: Wiltshire on Market – Here, once again what I loved about the tour was that some of the restaurants we frequented weren't even open to the public yet, so we received a personal, intimate setting with each chef. We sat at the long bar and sampled a masterpiece that they had concocted for a recent event: a smoked shitake mushroom pie topped with an apple slaw.
Stop 7: Rye on Market – Our last stop. I was sad to see the tour end, but happy it ended with another distinct restaurant known to Louisville and the NuLu area. Here at Rye, we got to try a handcrafted shot and their Butternut Risotto, another huge sampling that I forced myself to finish because I was so full! It was the perfect pairing of sweet and savory.
Tickets are $48 per person (which sounds like a lot, I know!) But for something different, unique to do, to get to experience new restaurants that you may not know about yet, I think it's reasonable. For the quality of food, the experience of meeting with and talking with the chefs and owners of these outstanding establishments, and the ambience and conversations you'll have while walking through. Also, you have to think about these restaurants as local, organic, home-grown types of places. Many of the chefs told us that they get their ingredients a day or two before they are prepped and served, it is SO fresh. They use local farmers, regionally around Kentuckiana and it's a partnership that is much needed to sustain each other's endeavors. On average, each sample you will get is worth $8, and trust me you will leave this tour full. My husband and I didn't have dinner the evening after we went on the tour, we were still that full and satisfied. We absolutely loved the experience we had (personally we had only been to 1 restaurant that was featured on the tour and we made notes to go back to virtually all of them!)
Overall, if you're wondering about how kids would handle this tour, although the website says children are welcome and it's stroller-friendly, I would not recommend bringing young children on this tour. In my opinion, this tour is simply a way for grown-ups to mingle with other adults and have a nice day out. If you can swing a babysitter, I would say go do something new and unique with your significant other and have fun! Teens would probably enjoy this tour, if they're into food and dining and want to check out the NuLu area. It's mainly geared toward adults though.
Normally there are 6 stops and they rotate each week. Currently Louisville Food Tour has 12 partners (NuLu and East Market restaurants). Kim Hales is the creator and owner and was a fun, energetic, and informative host for her group! Tours are every Saturday from 1:30pm-4pm. Tourists meet in front of the WHY Lou Two store on East Market Street. You can email or call for more information. I did notice afterwards that she ran a contest on her Facebook page for free tickets, so be on the lookout for that in the future.
Happy tasting!
https://www.facebook.com/louisvillefoodtour
https://twitter.com/LouFoodTour
email: info@louisvillefoodtour.com
Phone: 812.301.2154
By guest contributor: Erin