Review of NuLu Festival and Mini-Maker Faire in Louisville, KY
This was a very family friendly event that had many fun
things all in two blocks of East Market Street. This year's
NuLu Festival
was the 5th one and had a new
element: the first ever
Louisville Mini
Maker Faire
. With this addition it really opened it up to being a great day
of family fun.
As you walked up to the festival it was hard to miss "The
Device" from
Newtown Attic
. "The
Device" is a roller coaster of sorts that works without electricity. It is all
science and fun. Kids of all ages enjoyed this ride. We hope to see it back
next year. Also in the Mini Maker Faire was a dedicated section to Lego
creating. Two costume designed tables full of Lego's were available for
creating. This was a very popular area and kids were helping kids make amazing
Lego projects.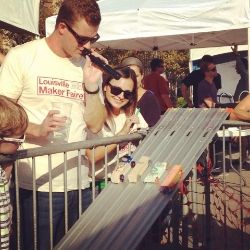 Ever heard of a Nerdy Derby? Well we had not either but now
that we know what it is we are all about it. Maker Faire set up a soapbox derby
track that allowed you to race a soapbox car that you built that day out of
materials that were provided to you. It was cool to watch how the different
cars raced down that track and how creative they were. Do you sense a
theme yet of the Maker Faire?
If you and the kids are not into roller coasters, Lego
design, or car racing, there were many more hands on activities. The
American Printing House for the Blind
had Braille typewriters on hand to help learn how
Braille is created. There was a 3D printing zoo inside the
Local Speed
where
you could see the different ways 3D printers work and see them all in action.
DIY Louisville
was on hand with several different take home crafts for all
ages. This is just a small list of what went on at the Louisville Mini Maker
Faire from 12-6pm. Over 85 booths were set up and all were kid-friendly. We very
much hope this event returns next year bigger and better. I have heard from the
organizers that is the plan.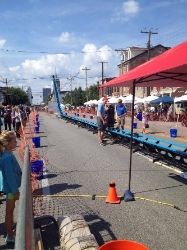 The NuLu Festival also had several vendors that were passing
out fun free things. At
Why Lou Two
, you could spin the big wheel of fun
and win a prize. They also had a few fun attractions, like Colonel Sanders himself. The
Louisville Water Company
was teaching event-goers how to purify water and giving it out for
free. The kids corner was open from 1-5pm with many activities
that were suitable for younger children. They had a face painter, a bounce house,
The Bubble Truck
, and
the
Kentucky Science Center
on hand making cool crafts.
All of the vendors were friendly, engaging and fit in well
with the festival. There were several food options but not really great for
kids. I hope this is something that is worked on for next year. If you did have
to pay for something the prices were very reasonable. You did not come across
cheap toys and dust collectors.
This event is getting bigger and better every year. It is
recommended that if you have little children to go early before the loud music
gets started. I hope to see a bigger kid's area and hope they get a
vendor that will have "kid-friendly" food, but over all this was a great family
friendly event.
By guest contributor: Christine