A Holiday Bucket List for Louisville families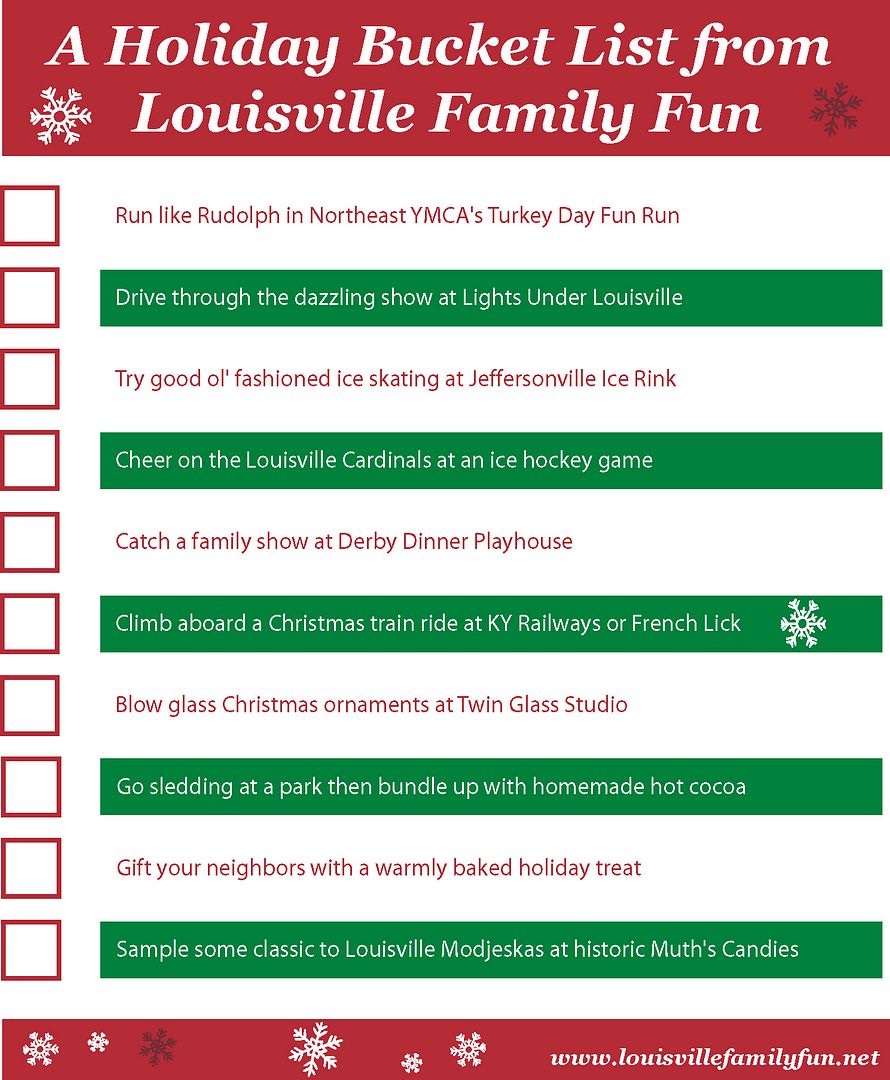 There are tons of great Holiday events in Louisville and it may seem daunting to pick the ones that are right for your
family. Here's my family's Holiday
Season Bucket list:

-We started a new tradition last year by participating in
the Northeast YMCA's
Turkey Day Fun Run
and Turkey Trot for the kids. This is a
great way to get the family moving together as well as a healthy start to
Thanksgiving Day. The Fun Run and Walk
are first up and there is childcare available in the Adventure Center for all
participants. Then the Turkey Trot takes
place across the street and is broken up by age groups. My kids had so much fun they beg to do it
again year round!
-After Thanksgiving, we load up the van and drive through
Lights Under Louisville
. This is a great event for out-of-town guests
since it is fairly unique. And since
they charge by the car load instead of per person, you can load up the mommy
van and enjoy the Christmas lights together. It takes 30-45 minutes to get through and there are no pit stops along
the way, so I don't recommend this for potty trainers.
-If you are athletically inclined, head over to
Jeffersonville Ice Rink
for some family ice-skating and hot cocoa. If you have rowdy boys and want to take them somewhere they'll blend in,
head over to
Iceland
and watch a
UofL Men's Ice Hockey game
. Admission is $5 and kids under 12
are free. My kids love the games, but
the Zambonis alone are worth the price of admission.
-A couple of weeks before Christmas, we usually catch a show
at
Derby Dinner Playhouse
, see the
Nutcracker
,
or go on a Christmas Train Ride in either
French Lick
or
The Kentucky Railway Museum
. The Polar Express train ride we took last
year was a memorable experience for my kids and it was totally worth the long
drive up to French Lick. This year I
think we'll check out the pirate-themed
Jingle Arrgh the Way
at Derby Dinner
Playhouse.
-Every year I take my kids to a local hot shop to blow
Christmas ornaments. We've visited them
all and I love the diversity among glass-blowers in Louisville. Last year we visited
Twin Glass Studio
in
Norton Commons and the experience was superb. There's a viewing room between the hot shop and the front of the store
where kids can play until it's their turn to design and blow their very own
creation. See my review
here
.
-Of course if there's snow on the ground, you'll find us at
the park
sledding
. We take sledding very
seriously and we have the injuries to prove it! We always end our sledding with homemade cocoa, which makes it
especially exciting for my kiddos.
-Twice a year I gift my neighbors with food. In the summer when my tomato plants produce
more than we can consume, I leave tomatoes on their doorsteps while they are at
work. It's my very own version of
ding-dong-ditch. During December, however, I bake cookies with the kids and we go around to all our neighbors'
houses to wish them a Merry Christmas. It's a great way to see everyone during the cold months as well as a fun
way to spread Holiday Cheer.
-Last but not least, no Holiday Season is complete without a
trip to
Muth's Candies
for a box of Modjeskas. They've been
open in the same location on Market Street since 1921 and my family has been
going there for generations. It's a
Louisville tradition.
A great tip! Use the image above to check off the things you've done throughout the holiday season!!
By guest contributor: Maggie