Explore Kentucky's Historical Markers: a great idea for family scavenger hunts in Louisville, KY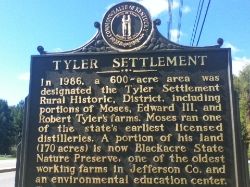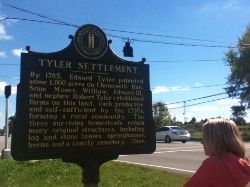 While my daughter was on fall break from school, I decided to take my two kids around town to discover and learn about some history of our city and the state of Kentucky. I find myself stopping and reading the historical markers that I come across all the time, and my 10 year-old has just started becoming interested in the stories behind them. So we set out to find some throughout Louisville during one of her days off. It turned out to be one of the most beautiful fall-like days we have had yet this season and it was perfect!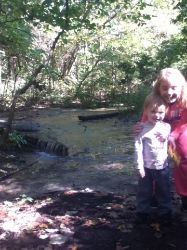 Since we live and breathe in Jeffersontown, I decided we'd start our trip by discovering two historical markers that we pass all of the time when we're driving around town. I looked up the historical marker sites on this website before we set out to locate them. The first one we explored was Tyler Settlement. After we read the marker and learned the history behind the land that is Blackacre Nature Preserve today, we ventured down the road to the country drive that leads to this hidden gem in Louisville! We walked the Waterfall Trail and found the hidden waterfall, we walked the grounds of the original house, spring house, and Appalachian double barn. My kids had a blast and we couldn't have asked for a more picture perfect day!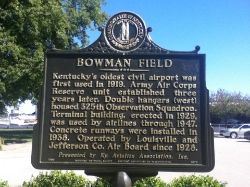 We then drove down Taylorsville Road back toward Gaslight Square in Jeffersontown and parked in the public parking area. We walked over to the corner of Taylorsville and Watterson Trail at the heart of Jeffersontown to read about Roscoe Goose. He was a trainer and jockey who made history in the Kentucky Derby and was born near Jeffersontown. After reading up on this little tidbit of history, we continued down Taylorsville Road toward Bowman Field. We learned about how the start of civil aviation in Louisville began just miles from where we live, and we walked around the grounds and got to see an airplane or two take off and land. It was a great ending to our little adventure of an afternoon!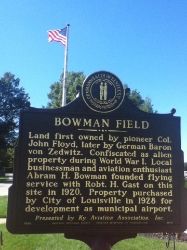 My family and I have decided to scope out more of the historical markers that are found throughout the state. We're going to travel to Frankfort and Lexington to see if we can find them on a family scavenger hunt in the months to come. We just visited Covington, KY a few weeks ago and my daughter remembered seeing a historical marker there as well in the MainStrasse Village. She started asking me about our counties and how the state got divided up by each county. Our little family history trip is turning into a great history-making conversation as well. This website lists the markers very conveniently for Jefferson County (you can also look up any Kentucky county). Other sites that are neat to get ideas from are Mapping Kentucky History Project, Kentucky Historical Society, and Signs of History.
The best part about this whole family outing is that my daughter kept saying how she couldn't believe how many times we had passed these markers and she never noticed them. She is now on a quest to seek them out every time we're out and about and we hope to make it a weekly or monthly reminder to go try and spot a new one! It's sort of our own version of geocaching. I hope you take your family out on this type of excursion and learn something new about the heritage of our beautifully rich, history-filled state!
By guest contributor: Erin
Looking for more outdoor fun? Click here.