Review of Jingle ARRGH the Way! at Derby Dinner Playhouse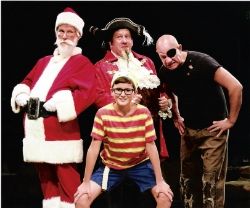 My son and I were able to check out
Jingle Arrgh the Way
this weekend at a hosted lunch show at the
Derby Dinner Playhouse
. I don't want to give too much away
about the story, but it is a musical play about a boy who takes a trip to the
North Pole with his pirate friends to meet Santa. Its overall message was how
giving-by way of a gift or friendship- without expecting anything in return was
the real 'treasure'. It was pretty
funny-even for an adult and my four year old was able to sit happily through
the entire play. We went to the lunch matinee that opened at 12 and the play
started around 1:15pm. I would plan to spend about 3 hours there if you go
assuming you will stop at their gift shop and look around. They did have some
decently priced items there.
If you are unfamiliar with
Derby Dinner Playhouse
, lunch or
dinner is included with your ticket price. The lunch was great and had lots of
kid-friendly food items including chicken nuggets, spaghetti, and French fries.
They also offered carved turkey, green beans, corn on the cob, a salad bar and
rolls for the more traditional eaters. Tea, water, coffee, orange juice, white
and chocolate milk were included in the lunch. Soft drinks were an extra charge
as well as dessert, but again, these were reasonably priced. We paid $1.50 for
2 chocolate chip cookies and $2 for an Oreo pudding cup. My son did say there should have been pizza,
but-hey, you can't please everyone! Mr. and Mrs. Claus came around to every
table before the show started for pictures and a quick chat with Santa. Mrs.
Claus gave the kids a Pirate eye patch, which was a fun little momento.
Derby Dinner Playhouse
is just across the bridge in
Clarksville, IN. Parking is easy and there are plenty of spots available. The
playhouse itself is nice and reminded me a bit of Medieval Times on a smaller
scale. Bathrooms were easy to get to even during the show. I'll certainly be
checking this place out again soon, mateys!
Remaining dates of this show are November 23, 29, 30 and December 7, 14, 21. Call 812-288-8281 or visit the website for more information.
By guest contributor: Jennifer