Review of Loui Loui's – Authentic Detroit Style Pizza in Louisville, KY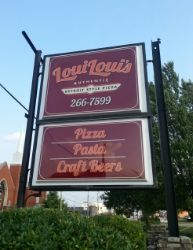 Well, being that my husband and I are born-and-raised
Detroiters, we felt it our duty to indulge in some real "home" cooked pizza!
Loui Loui's is a nice looking restaurant, both on the outside and inside. There
is plenty of seating, and dining areas include wall TVs for viewing sporting
events (extra TVs in the full bar seating area).
We had a party of 7, and were
seated immediately (on a Sunday around 6:00). Drink orders were taken, then
food orders. This is where things turned ugly. I know, from experience, that
the square deep-dish pies take a while to cook, but given the lack of patrons,
there is no way we should have waited the 45-minutes we did … just to get our
salads!!! To pass time, we took it upon ourselves to grab coloring books and
crayons from the front, which were not offered to us by the hostess or by our
waiter, even though we had 4 children in tow. Over the course of time, the kids
needed to use the restrooms (or play in them out of boredom). *Note; there are
no changing tables in the bathrooms.
As for the food – once it came – it is quite delicious! They
offer 10 signature pizzas (pies) to select from, or you can opt to start with
basic cheese and build your own with toppings. Prices range from $11.99-$39.99
depending on the type of pie, and the size (4-square, 8 or 10). The square
pieces are each very large, and very heavy/filling. They also offer a variety
of Italian-style appetizers, and a nice selection of salads. The kid's menu
consists of pizza, spaghetti & meatballs, chicken fingers, and macaroni
& cheese. Each are $4.99, and come with a choice of salad, fruit, or French
fries, with milk or soft drink included.
We choose to order the spinach salad as a starter, two 4-square pies, and the
kids had spaghetti & meatballs, and chicken fingers. All were very
delicious, and the kids devoured their meals.
Overall, if the service wasn't incredibly slow and inadequate, this
review would be great where food is concerned! Unfortunately, when it comes to
a family dinner out, these things do matter. Maybe an evening out among adult
friends, to enjoy some great pizza and a ball game on the TV, would be the best
option for Loui Loui's … For our family; we're sticking with pizza delivery!

10212 Taylorsville Road
Hours: Tu & Th 4-9pm, Fri & Sat 11:30am-11pm, Sunday 12-9pm
By guest contributor: Karen