Top 10 Locally Owned Shopping Stores in Louisville, KY
You may have seen the pledges going around Facebook, wherein
your friends announce their intention to buy their gifts this Holiday Season
from local merchants. It may seem like a
lot of trouble, but Louisville has some of the best specialty stores anywhere. Shopping locally-owned keeps more money in
our local economy and improves the lives of people you actually know. Visiting these different areas of town in
search of something special for everyone on your list is an adventure. One of my favorite things to do for people
who don't live in Kentucky is to put together a gift basket of different things
that are made here in order to showcase the unique culture of Kentucky.
Tune into our podcast on this topic!

It's also a fun way to learn about our local
history. Here are some of my favorite
spots in town:
10.
A Taste of Kentucky
is your one-stop shop for all things Kentucky. For the foodie in your life they have Bourbon Barrel Cakes, Ale 8, and
the full line of Maker's Mark sauces and spices. They also carry Kentucky-themed Christmas
ornaments, home décor, jewelry, and anything else you can imagine. There are currently
four locations
in Louisville.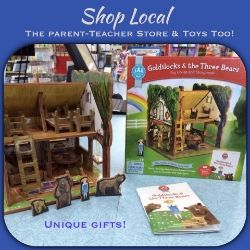 9.
The Parent-Teacher Store
has so many items, both educational and well-made, super fun toys. There are so many unique toys here that you can't find in the big-box stores. In addition to toys, they have arts and crafts galore.
7.
Lele's Boutique
is tied with
Dress and Dwell
for this spot. Lele's offers a wide
variety of gifts for everyone on your list, while Dress and Dwell offers
clothing and home goods. Lele's offers embroidery
services for personalized gifts, as well.
6.
Muth's Candy Store
is a longstanding Christmas tradition in my family. My great-grandfather used to give me a small
box of Modjeskas for Christmas every year. My dad carried on the tradition after he was gone, and now that I have
my own kids I love to take them to the original candy store where so many
generations of my family have shopped. While you're in Nulu, check out
Peace of the Earth
Boutique, where they sell locally made natural bath products as well as locally
made
Kluster Shop
jewelry, among other things.
5. The
Kentucky Museum of Art and Craft
has an
impressive selection of unique pieces, all handmade in Kentucky. There are ceramics, jewelry, paper goods, and
various other one-of-a-kind gifts.
4.
Lexie's Trading Post
is a
great place to get unique handmade bath products. My favorite is the bourbon lotion-it smells
heavenly! You can also have your
favorite products refilled at a discount, saving those old containers from the
landfill.
3.
The Why Louisville Store
and Why
Lou Two are great places to find unique gifts for anyone. I've bought a onesie with Patrick Swayze on
it that says, "Nobody puts baby in a corner", unique Louisville and Kentucky merchandise like 502 and the fleur de lis, and zombie finger puppets at Why Louisville
and Why Lou Two. They even have rock 'em
sock 'em robots at Why Lou Two. It's a
fun place to visit no matter what you buy. Stop by and say hi to Colonel Sanders.
2.
Heimerdinger Cutlery
has always been my favorite place to shop for my husband. We have everything from fancy kitchen cutlery
to pocket knives. And Heimerdinger is
now carrying a full line of men's shaving and grooming products by
Taylor of Old Bond Street
. For the foodie in your life, this is the only
place in town I've ever seen Kershaw Shun knives, and their collection of
Wusthoff knives goes far beyond anything I've ever seen in a big box store or
specialty chain.
1. Gifts you make always mean the most, so my top choice
every year is always a blow-your-own glass ornament. My kids have been doing this since they were
toddlers, so it's not anywhere near as dangerous or scary as you're thinking. We've gone to Glassworks and
Flame Run
in the past, which
have now merged into the old Glassworks location. Their gallery is amazing and you can find
some pretty awesome gifts there. But my
new favorite hot shop is a relatively new kid on the block,
Twin Glass Studio
. The owner is a mom of twins, so she designed
the space to be welcoming for families. See our review
here
. I really enjoyed blowing a unique ornament
for my niece last year-it's something she will have forever.
By guest contributor: Maggie