Weekend Getaway at Shawnee National Forest
Kentucky's neighbor to the west is quickly becoming one of
our family's favorite places to retreat for a weekend.
Shawnee National Forest
in southern Illinois is a perfect escape from the electronics, housework, and
jobs. We have only been there twice, both in the springtime, but we cannot wait
to check it out for the fall.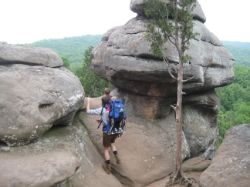 The trip is about 3.5 hours which is a nice distance for a
weekend getaway. We have just explored 3 areas (Burden Falls, Rim Rock and
Garden of the Gods) of the 280,000 acres of the forest so far.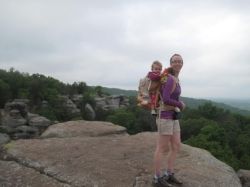 The
Garden of the Gods
is full of rock formations, cliffs and trails. The views were spectacular. My 2
sons (3 and 5) loved climbing the rocks with us. It would be a great place in
the fall. There's a 1/4 mile observation trail in the area along with less
traveled trails that has more rocks that were great for climbing for the boys.
Rim Rock Forest Trail
was right across from where we stayed and lead to Pounds Hollow Lake. The lake area has camping, swimming, fishing, and
picnicking. The Rim Rock trail has features with names such as Fat Man's
Squeeze and history with Ox-Lot Cave. Again this has some great views along the
hike.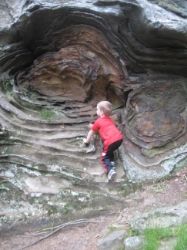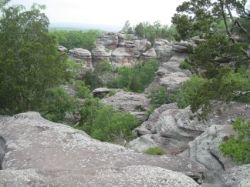 We also took a drive
to visit
Burden Falls
which is one of Illinois' highest waterfalls. This was a more challenging hike
as it was not clearly marked. Also the trail was pretty rugged as in teamwork
was needed to get down to the bottom of the falls and back up. The drive to the
Burden Falls was on gravel for a ways too, but that just added to the
adventure.
We stayed at
Rim Rock's Dogwood Cabins
which
had everything we needed. The owners, Dixie and Bob, were very hospitable and
provided lots of info on things in the area in our cabin. There's a fire ring
with wood provided (which we ended up cooking our hobo dinners and banana boats
over), outdoors games such as croquet and cornhole, TV, dvd player, and even
microwave popcorn. They have lots of animals that the kids enjoyed seeing while
we were there such as goats, horses, and peacocks. There are a couple of campsites
nearby as well. The part of the forest we stayed near was about a 30 minute drive to
anything so we packed all our food for the trip. Be sure to pack bug spray too!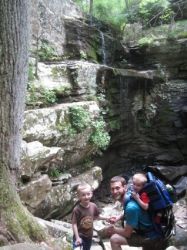 Although we just
hiked, there are many opportunities to enjoy the outdoors year-round with fishing,
boating, swimming, and horseback riding.
If you are looking
for a weekend to check out of everyday chaos of life and to check in with
family be sure to check out Shawnee National Forest!
By guest contributor: Jeanette