Review of That Art Place and SmART art classes in Louisville, KY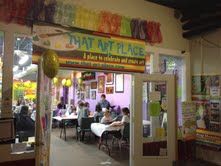 We arrived at the
Mellwood Art Center
for our 9:30am SmART (Saturday Morning Art) class.
We left time to find That Art Place shop in the midst of the many businesses in
the Mellwood Center. My kids put on one of the big shirts provided to protect
their clothes and sat at a table. Mrs. Melissa Wood started the class by
talking about the difference between crayons and pastels, and continued to
instruct the class in different art techniques and information as the kids
created their craft. The kids were taught how to draw a pumpkin from the inside
out, how to use your hand to create a leaf shape, learned about primary versus
secondary colors, and much more. Melissa did a great job engaging the kids,
asking questions, and teaching about art. The kids used pastels, paint,
scissors, and glue to create a cute pumpkin scene this particular Saturday. The
kids had a great time learning about art while creating something they could be
proud of and take home. There was another mom besides me who stayed with her
kids, but you are welcome to leave your kids and come back at the end of the
art class.
I love that SmART is more than just a babysitting service, it's an
opportunity for kids to learn as well. Melissa seems very caring, and you can
tell she has a degree in teaching and art. She was very good with my
inquisitive 7 year old, my inexperienced 4 year old, and balancing a small
class with other distractions going on. It's easy to look at the calendar on
the website, check the age groups, and theme, and reserve your spot. You don't
need to pay until you arrive at the
art class
.
There are some great half price deals on the website – be sure to check it out!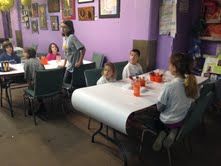 There are several different instructors that work out of
That Art Place space, so feel free to check out the calendar and other types of
art classes going on for adults and kids. We were able to observe a birthday
party while at That Art Place on the other end of the room. While there are a
lot of smaller parties, this party had about 30 kids. There was plenty of room,
and the instructor, Tracy, did a great job of instructing and working with the
large group. It looked very organized and the kids looked like they were having
a great time. That Art Place looks like a great place to host indoor, unique, fun
parties and play groups!
By guest contributor: Caryn