Exploring Kentucky: A highlighted family guide for 2014
My family and I want to explore so much in our own beautiful state of Kentucky. It seems overwhelming sometimes though to try and pick the obscure little places you'd like to see, or the historical sites to learn about for the history buffs in you, or the action-packed places that will fill your active family's lifestyle.
This is a month-by-month guide, if you will, for families to get out and explore the little nuances that make Kentucky, Kentucky. I want to help you discover new little cities and towns throughout our state that you may never have heard of, may have thought "is that where that is I always wondered that", and make a point to delve into a new site or spot each month throughout this coming year. There are also many ideas located on Kentucky Tourism. Here we go!
January – Explore the Northern Kentucky corridor. There is this really neat looking place inside of a toy store in Covington, KY that I have been wanting to visit for years. It's called Totter's Otterville. With a 10-year-old and a 2-year-old, we are definitely checking it out hopefully soon. Since it's just so cold in January, this sounds like a great new place to check out that's indoors and makes a nice day trip outing. I think there is something there for that range of children, but much older than 10, they will probably be a little bored. Adults are free, children's admission prices are $7.95 (for ages 1 and up). I have seen coupons listed on the website. Northern Kentucky has LOTS to choose from for families, including a lot in Covington, Mainstrasse Village, as well as Newport, KY. From our friends at Family-Friendly Cincinnati: must visit downtown Cincinnati. There is so much to do. From visiting Sawyer Point, Washington Park or Smale Riverfront Park, to Cincinnati Reds and Bengals games, a visit to the Greater Cincinnati Fire Museum or OTR or The Banks for lunch, there is so much to do. You could spend multiple days trying to enjoy all that the downtown Cincinnati area has to offer.
February – Go south for the winter. South of Elizabethtown is the Mammoth Cave area, and Cave City where Dinosaur World is. When we're traveling south to Georgia or Florida, we always see the huge dinosaur towering over the highway. Another place for my family to check out this coming year, as they are open 364 days of the year (closed on Christmas Day).
March – Head a few miles southwest over to Hodgenville. Visit the Abraham Lincoln National Birthplace site. This place is it for the history-seekers in your family! We can't wait to finally check it out this coming year.
April – Let's trek over to Elizabetown, Kentucky this month. Most of you who have kids in school have a spring break this month. Spend a day of it in this quaint town, which seems to be getting bigger and bigger all the time. There is a great park here that looks fabulous to spend an afternoon, it's called Freeman Lake Park. There's also a really cool playground called Funtopia.
May – This is a great time of year to explore outdoors. Check out some of the beautiful Kentucky State Parks this month. Go to Natural Bridge, Cumberland Falls State Resort Park (where I am determined to see that moonbow at Cumberland Falls) Old Fort Harrod State Park, Olympia State Forest, Mammoth Cave National Park, Buckhorn Lake State Resort Park, & Daniel Boone National Forest, just to name a few.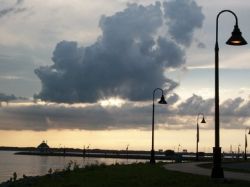 June – Perhaps you're looking for a quick 3 or 4 day weekend trip away to somewhere you haven't been in Kentucky? Look no further than the Land Between the Lakes region near Paducah, Kentucky. My family visited here a few years ago and we had an absolute blast at Lake Barkley. Read about it here.
July – Carrollton, Kentucky is a small little town that many of our acquaintances have told us is a neat place to go for a day. Here you can visit the Butler-Turpin House on the grounds of General Butler State Resort Park and the Kentucky Veterans Memorial. There are many historic homes and buildings to see, and you can have a picnic at Point Park, where the Ohio and Kentucky Rivers meet. There's also a tiny town called Williamsburg which is home to Kentucky Splash Water Park. Whenever we are traveling that way, we always see the exit sign for this and think, we should check this out in the summer! I think we finally will. A great place to venture for the active family lifestyles!
August – Go west young man (family)! Try to explore some of the Kentucky areas that are in the western part of the state. The Kentucky Tourism website describes this area as the Western Waterlands. Explore Paducah, KY, rich in history where you can learn more about it through a walking tour of their historic downtown. You can also visit the National Quilt Museum, take in some lessons from Kentucky's largest Amish community, and shop antique malls. Another city out west is Bowling Green, home of Western Kentucky University and the National Corvette Museum. Worth checking into if you have race car fans in your family!
September – Check out the eastern portion of Kentucky this month. The "Eastern Appalachians" is a gorgeous part of the state with a richness and great variety of things to see. In this area you can stay at Carter Caves State Resort Park, see Broke Leg Falls (part of Red River Gorge), and experience arts and history that is renowned in the Kentucky Appalachians. You can tour caves and ride some of the best horse trails in Kentucky. The Kentucky Coal Museum sounds like a fantastic place to visit as well.
October – Instead of heading to the normal spots we Louisvillians always head to in autumn, why not make the trip 70 miles east to Lexington, KY. There is A LOT to do in Lexington, from the Kentucky Horse Park, to the Explorium, to the UK Arboretum-where there is a beautiful children's garden. Our LexFun4Kids friends say this place is spectacular to visit during spring, summer, and fall. During fall break, why not check it out. Another place to visit is McConnell Springs, which has a great walking area and nature center and is the birthplace of Lexington. Stop in Frankfort on your way or make a 2 day trip out of it. Salato Wildlife in Frankfort is a must see. Visit our capital city and really delve into the history of Kentucky!
November – We have a London, KY, a Paris, KY, and other small towns like Hopkinsville, Berea, Georgetown, and Owensboro. What's there to do in these tiny cities named after huge metropolises? Lots of shopping, walking tours, parks, and history to be taken in. Berea is a certified Kentucky cultural district, Hopkinsville is home to the Robert Penn Warren Birthplace Museum, Georgetown has a wonderful fall apple festival, and Owensboro is known as Kentucky's Festival City!
December – Ever heard of Harrodsburg? I've heard of it, but did not realize how much history there is in this Kentucky town. It's the first permanent English settlement west of the Allegheny Mountains, founded in 1774. Seven miles from Harrodsburg is Shaker Village of Pleasant Hill. History seekers-you found it here. My family also loves to visit Bardstown, KY and it makes a nice little day trip to do during winter break. There, you can ride the well-known dinner train, Also another cute little town to stop in is Glendale, KY. There are always lots of holiday events going on during this time of year, and we like to dine at The Whistle Stop Cafe, where the train tracks run right outside the windows of the restaurant.
Our mommy blogging friends in Lexington (Lex Fun 4 Kids), Elizabethtown (Elizabethtown Family) and Northern Kentucky (Family Friendly Cincinnati) also have lots of great tips on their websites, so when you're visiting these areas check out their blogs!
Now –> Go Explore Kentucky, and catch the Unbridled Spirit!
By guest contributor: Erin