January Family Book Review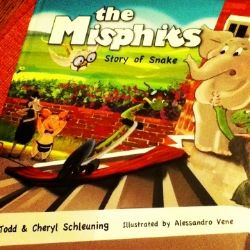 This month's review starts off the new year with a book written by a local author couple! It's The Misphits: Story of Snake by Todd and Cheryl Schleuning and illustrated by Alessandro Vene. The story is centered around the theme of fitting in, sticking up for others, and deciding not to give into bullying and other behaviors that hurt others. It encompasses the lessons of overcoming adversity and shows that having a disability is ok. Through the use of animals as the characters, the story accomplishes a valuable lesson for all children to learn at a level that is understandable and attainable for the audience; the authors recommend this book for children in grades K-3.
I really enjoyed the illustrations in this book. They are bold, clear, clean-cut, and so bright! My kids really enjoyed hearing this story. What I am really enjoying right now with my kids' ages (10 and 2 1/2) is that my older child reads to my younger one and they just sit together so cozy and enjoy a book together all the time!
The authors have graciously agreed to have a giveaway soon, so be on the lookout for that! Be sure to look for this book where you shop or borrow books from your local library. We always want to support local authors in our city! You can also listen to their Louisville.am podcast here, and see them on Great Day Live here. Check out their website, http://www.misphits.com/ as well.
By guest contributor: Erin