Music lessons and/or options for children in and around Louisville, KY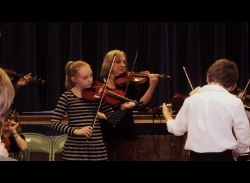 Children's Music Academy – Check out a free introductory class through this local business located in Prospect. Call 502-648-6003 for more information.
Community Music Program at University of Louisville – Take lessons in all types of musical instruments as well as voice lessons. Contact 502-852-5607 for more information.
Gittli Music Studios – A small studio located in Jeffersontown that offers a small offering of music lessons, mainly in piano, guitar, and strings. Contact 502-267-5803 for more information.
Heartland Music Together – A sponsor of LouisvilleFamilyFun.net, and one of the most familiar music/parent-child singalong programs for young children in Louisville, you can't go wrong with them! Contact for more information. Check out a past review here.
Jimmy's Music Center – Located in New Albany, Indiana, they offer private music lessons for almost any instrument. Call 812-945-8044 for more information.
Louisville Leopard Percussionists – An outstanding group of children who perform percussion. I'm going to personally look into how to get involved and join this group as I'm not quite sure what their requirements are. Contact them via their form on their website or through their Facebook page.
Louisville School of Rock – Offers private lessons and band lessons for all ages, including songwriting, according to their website. They also invite you to check them out during their office hours Mon-Wed 3:30pm-8:30pm. Contact 502-266-5552 or contact them via Facebook.
Louisville Youth Orchestra – For more advanced students who are already playing in their school's musical instructional program, looking for more opportunities to play instrumentally. Contact 502-896-1851 for more information
Mom's Music – They are touted as being Louisville's home for music education for beginners to advanced. I personally have a young child who is fascinated with drums at the age of 2 and I am eyeing this established local business for the future! I have also heard their amazing young musical groups perform at various libraries in the past and can vouch for their talent and skill! Call 502-897-3304 for more information or find them on Facebook.
Music Go Round – Individual instructors' contact information is available by asking at the counter or calling the store. My daughter rents her violin from here and I became aware of the information they provide through our rental. Call 502-495-2199. Located at 3640 S. Hurstbourne Pkwy.
Musicteachers.net – An online searchable database in which parents can locate a teacher who specializes in the instrumental instruction you are seeking for your child. Search by city or zip code and compare teachers and prices in the area.
Musical Milestones – This musical program begins with introducing babies from 4 months-20 months into the world of music. Class age ranges move up from there from 2 years to 6 years where children grow in their musical knowledge, skill, and ear for music components. There is a group piano class for children 5-7 years. Call 502-819-4214 for more information.
Notable Beginnings – According to their website, this music school located just outside of the Highlands offers lessons on brass, woodwinds, strings, guitar, and piano, as well as offers the MusikGarten program for babies-preschoolers. Call 502-891-8898 for more information.
Shine Music Together – Another children's music program which implements the Music Together curriculum. Shine operates out of Shine Wellness Studio in the Nulu neighborhood on East Market Street. Call 502-442-2843 for more information.
Suzuki Stars Music Academy – Offering violin, viola, cello, guitar, flute and piano in private and group classes. Offering Suzuki Steps Baby/Toddler Classes for Ages 0-3. Call 502-654-7872 or 502-639-7272 Located at 3415 Bardstown Road Suite 308A.
Suzuki Steps
– Baby/Toddler Music Classes. Call 502-639-7272 for more information. Read our review
here
.
Takelessons.com – Use their search options to find local teachers who teach a variety of options including singing, violin, guitar, bass guitar, piano, and drums.
Tiemann Academy of Music – Contact 502-253-1493 for more information.
Willis Music – This music store on Hurstbourne Parkway offers a variety of instruments for sale or rental, but also provides customers with personal music lessons and contacts for private instructors as well. Another great resource if you're looking for a recommendation. Contact 502-426-1818 for more information.
Please call ahead and find out more about these offerings. This post is intended to inform parents of options available as they inquire about music opportunities and extension for their children.
By guest contributor: Erin