Review of Pizza King in New Albany, Indiana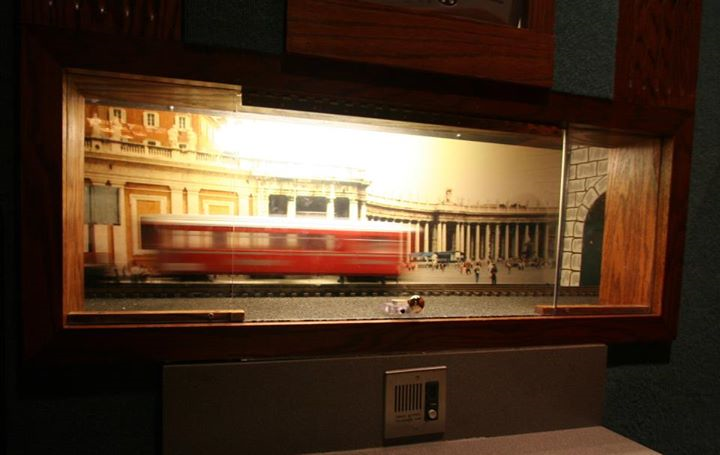 After the Louisville Family Fun 4th
Birthday party (which was fantastic, by the way!), we decided to head with some
friends to Pizza King in New Albany. Our
friends recommended it since they'd been there a few months ago. We had three kids with us and they love pizza,
so you can't really ask for much more, but they had more to offer –
trains! My daughter is in love with
trains! And there isn't just a train in
the restaurant; a train brings you your drinks!
On one side of the restaurant, there
are a few tables and on the other side, there were booths. If you sit at any of the booths, you are in
for a real treat. First of all, they all
have TVs and video games for you to play, paid for by quarters in the
wall. We didn't need that entertainment,
because the two-year-olds sat right next to the window where the train came by
and were completely enthralled the entire time. Every time the train came (every minute or so), they had to talk about
it. My daughter liked to tell us how
many drinks were on each train. After
about ten minutes, they settled down to just talking about it instead of
screaming about it each and every time!
On top of
the entertainment, the pizza was reasonably priced and pretty decent! You could tell it was an oven-baked pizza
because you could see the black marks on the bottom. It had a fairly thin crust. We got a 14-inch pepperoni pizza for about
$14. It was enough for 2 adults and a 2
year-old to eat, with a little leftover. They had plenty of other options like pasta and sandwiches and very
cheap kids meals in case your kid isn't into pizza.
If that fun
wasn't enough, there are lots of candy machines and even a cotton candy machine
– yes, it makes you cotton candy right there on the spot for $2! We didn't do any of these things that night,
but there were plenty of kids in the area when we left. If I had to
pick a downfall to the restaurant, I would say the service wasn't
fantastic. It wasn't bad, but definitely
not the best. We had to wait a little
while for our server to come back a couple of times, but she was polite.
Overall, it
was a fun experience with pretty good food at a decent price. With it being about 10 minutes from the
river, it isn't too far, but a decent drive if you weren't already in the
area. We may go back sometime if we're
ready for an adventure or are in Indiana for another reason sometime!
By guest contributor: Lauren
Photo courtesy of Pizza King, Facebook