Belle of Louisville is Preparing for Another 100 Years on the Ohio River
Today the
Belle
of Louisville
began the 100 year celebration a little early with the
announcement of reconditioned engines that were donated by Atlas Machine and
Supply. Atlas is a local company that has been operating in Louisville since
1907. Atlas also donated their time to the project. The Belle's engines, before
the restore, were 120+ years old.
Louisville is very lucky to have this historic icon for all
to enjoy. Most steamboats were only estimated to last 5 years and The Belle has
long exceeded that estimate and hopes to make it another 100+ years. The chief
engineer Rob Furlong is a native Louisvillian and said he did this project as a
labor of love and would not have wanted anyone else to work on the project. He also
stated that this job was "a lot of fun" for him and his crew. Everyone involved
truly had The Belle at heart and put a lot of love into the project.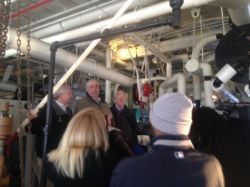 The updated engines will make The Belle a little faster and
a lot more energy efficient as she rolls down the river. This year's
Great Steam Boat Race
put on by the Kentucky Derby Festival on April 30th and The Belle
and her pretty engines are hoping to take the Golden Antlers.
On October 18, 2014 The Belle will officially be 100 years
old. There will be many events surrounding the 100 year celebration, including
a 6 day celebration from October 14-19. You can check out more information
about the festival at
http://festivalofriverboats.com/
.
The Belle will be open for cruises down the Ohio in April
and families can see the new engines at work. The engine room is open for
viewing and you might get lucky with someone on hand to answer some questions. It
is highly recommended that you take your family to see the engine room and on a
Belle cruise.
The president of Atlas, Rich Gimmel, stated that he "Loves
the River, Loves Louisville, and Loves the Belle." With all that love, this
project is one to be remember and seen. You can read all about the Belle of
Louisville by visiting the website,
http://www.belleoflouisville.org
.
Visiting the Belle of Louisville in 2014 is a must do activity.
By guest contributor: Christine