Review of 4D Digital Theater at Kentucky Science Center in Louisville, KY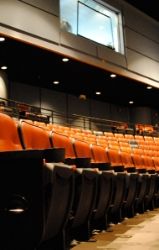 Photo courtesy of Kentucky Science Center
On a recent Friday morning, I surprised my 5 year old daughter with a visit to the new Digital Theater inside of the
Kentucky Science Center
. The theater no longer has the IMAX system which was installed back in 1988. It now boasts a fully digital theater with Precision White Screen technology from RealD Inc., which allows for dramatically improved viewing quality both in 2D and 3D. A new sound system was also installed to complete the upgrade to the 4 story theater.
KSC is currently showing four films in the new theater; Titans of the Ice Age 3D, Watermelon Magic, The Last Reef and Jerusalem. After reading about them online, I decided to see the new early childhood film, Watermelon Magic, which is about a 5 year old girl growing watermelons on her family's farm. Before the feature film, there was a short preview of The Last Reef. The images of sea life were simply stunning! The sound was very crisp and clear, though loud enough that it took a few minutes for my daughter to adapt and remove her hands from her ears.
I was not totally sure what to expect from a film about watermelon growing, but it turned out to be pretty neat, and it appealed to my daughter who clearly identified with the main character. The film is made in a unique style. It's not really fluid motion, but rather, a quick series of stills. There is very little dialogue, but enough to keep set up the story and keep it going. It feels very artistic and different than the type of movies we are used to seeing. The time lapse images of the watermelons from seed to fruit are amazing! The film lasted 45 minutes and held my daughter's attention well enough to keep her still, though she certainly made a lot of excited comments throughout the movie. Watermelon Magic is made for young children and I believe that those outside the target audience may be a little bored by the plot. However, it's hard not to be impressed as the beautiful pictures come to life on the new cutting edge screen!
By guest contributor: Brandy