Review of THE JUNGLE BOOK at Derby Dinner Playhouse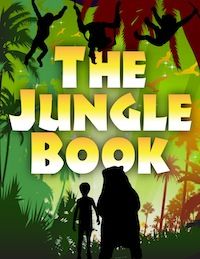 The Jungle Book is the first children's show of the year at Derby Dinner Playhouse. According to their website "Experience this extraordinary musical adventure into the fantasy world of Rudyard Kipling. Join Mowgli, a boy raise by wolves in the jungles of India, as he discovers life lessons with his friends Bagheera and the beloved bear Baloo."
We arrived at noon for lunch. There was a significant line at check-in because we got there at the peek time. I'd advise getting to the show at 11:45am or a little after noon to be either the first in there or to let the line pass through a bit by the time you have arrived. There is plenty of time to get food and eat before the show even if you aren't seated right at noon.
We were taken to an assigned table and a waiter took our drink orders. Tea, water, OJ and milk are options included in your ticket. If you want something else, it is extra (same with dessert). We were more than satisfied with the standard choices and didn't order anything additional. We headed to the lunch buffet and the line moved quickly. There was a salad bar that was fresh and a hot buffet which consisted of pasta, mac n cheese, chicken nuggets, corn dogs, mashed potatoes, corn on the cob, green beans and a carving station for turkey. They also had rolls and condiments. Lots to choose from for a hearty lunch and there were plenty of kid friendly options.
We had about 45 minutes to eat and the waiter refilled out drinks many times. During the show, Bravo the Star came around to greet families and welcome everyone to the show. The wait staff came around to ask everyone about dessert and tables were cleaned and tabs closed up by 1:15pm for the show to begin.
The Jungle Book was a really adorable show. There was laughter throughout by both parents and kids and my son loved that the actors came out into the audience. The bear was our favorite character – he was the silliest and I think that the lion did a really great job. However, I do think that the SSSSSSSSSSSnake stole the show! The story moved quickly and kept my son's attention and the music was engaging, especially when the kids in the theater were encouraged to beat on the tables along with the music (normally we wouldn't allow this at a theater or a restaurant so my son thought this was super cool).
This show is fun for the entire family but I can say, I truly enjoyed the one-on-one time with my son and I think this will become a normal routine for our family and next time, I'm checking out a breakfast show with my daughter. For The Jungle Book, there's also shows on March 1, 8, 15, 22, 29, 2014. There are breakfast and lunch shows on these dates and tickets start at $16.
Stephanie