Review of Kentucky Museum of Art and Craft MakerSpace in Downtown Louisville, KY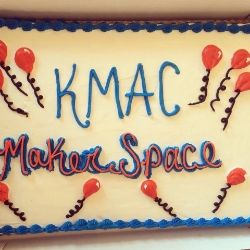 On Friday, February 7, my daughter and I had the pleasure of attending the grand opening of the new MakerSpace inside of the Kentucky Museum of Art and Craft. The MakerSpace is a special area designed with younger visitors in mind. It is an immersive art experience where visitors can experiment and create art in new and exciting ways.
The KMAC MakerSpace is comprised of multiple stations. There is a nice collection of art-related books for all different reading levels, a large chalkboard with colorful chalk and even an area for making origami. In the center of the room, there is a table that is themed to go along with KMAC's current Walter Early exhibit. Guests were invited to color pictures or make their own Walter Early statue with colorful pipe cleaners. Beside the table is a block building area where visitors can use photographs as guides to replicate famous architectural structures, or create a design of their very own.
My daughter immediately gravitated toward the Wonder Wall– a large board covered in special fabric. Visitors are encouraged to create their own art on the Wonder Wall using objects from the bins below. Some of the items are everyday objects, such as bottle caps and plastic utensils, while others are more obscure. Each object has velcro attached so that it can be positioned and repositioned on the wall. My 5 year old spent a lot of time in this area. A class from a local elementary school attended the grand opening as well, and I observed the 7 year olds making some awesome creations on the Wonder Wall.
Another favorite area was the Community Craft Corner. The current feature is a community quilt. Guests can select fabric covered tiles and arrange them in a pattern of their choosing. There is a diagram showing some common patterns for budding artists to replicate, or they can make their own. My daughter saw the square and triangle shaped tiles and immediately began making a row of houses.That is the fun of this space! It's the perfect place to let your imagination run wild. Along with the quilting theme, there was a large vertical quilt board on the wall. Below the board, guests can decorate foam sheets and cut out their own designs to place onto the quilt.
The MakerSpace is included in the admission price of the KMAC and is open during regular museum hours. Some of the offerings are permanent, while other stations will be changed periodically to coincide with rotating exhibits within the museum. The MakerSpace inside the Kentucky Museum of Art and Craft is an awesome new addition to Louisville's Museum Row!