Summer Camps in & around Louisville, 2014: Academic Camps
CLICK HERE FOR 2015 CAMP INFO
————————————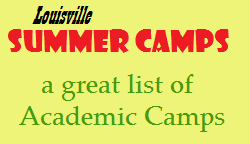 A partially sponsored post

iD Tech Camps: Code, Game, Create!
Held at the University of Louisville and other top universities nationwide
Weeklong, day programs for ages 7-17
www.iDTech.com
1-888-709-TECH (8324)
info@iDTech.com
Learn code, game design, app development, robotics, web design, film, photography, and more in a fun camp setting!
Weeklong, day programs for ages 7-17 are held at over 100 top universities nationwide including the University of Louisville, Stanford, Princeton, and Yale. Come explore a university campus, experience lots of hands-on learning, get inspired by energetic instructors, and build critical 21st century STEM skills. We guarantee 8 students per instructor for personalized learning. Every time.
The Parklands at Floyds Fork Where outdoor learning means science is fun! K-6th grade. Monday-Friday, 9-4. June and July.
The Falls of the Ohio Foun­da­tion Through hands-on activities, campers will discover fossils, nature, native people, and more! Various options for different ages. Ages 10-16, Half day, $125/week, Full day, $150/week
In alphabetical order:
A Better Grade Tutoring Jump Start Camp Grade K-8. Offered in June and July, camps last 8 days. $259
Bellarmine Lots of options, price ranges, and dates. Check site for all options.
Brown Forman INSPIRE Summer Enrichment Program A program focused on high school minority students. June 10-27, 9-12, Monday-Friday.
Discover Science Camp Lego Robotics and Engineering options available. Ages 6-12. 8:45-1, Monday through Friday. 4 weeks in June.
Handwriting is Kid's Play Camp July 16-19. 9am-12pm. Cost is $250.
Junior Achievement BizTown Camp $195/week, full day. Ages 9 – 12. Available in June and July.
Kentucky Country Day Camps in June, July, and August. Lots of options for grades K-12.
Kentucky Science Center Ages 4-14, full and half day camps, starting at $20/day.P
Meredith Dunn School k-6th grade. Begins late June, 3.5 weeks. 8:30-12.
Prospect Latin Preschool Four week camps, half or full day. 21mo to entering Kindergarten. Check site for brochure.
Sullivan College of Technology and Design Four options for high schoolers. $300-$495.
Therapeutic Handwriting Camps at Kids Center for Pediatric Therapies First two weeks in August. Spring Break camp forms currently up, but watch for Summer camp registration soon.