Things to do in and around Louisville with your kids: ideas from the LouFamFun Dads
The fathers of the LouFamFun kids' crew gave their thoughts on their favorite things to do with their kids around the city. Here they are!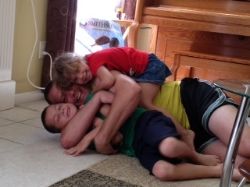 Stefan: Stefan likes to go out for meals at restaurants and let the kids order their own food like an adult and he enjoys taking the kids bowling. He also likes to take the kids to the movies and let them get their own snack pack and drink in their seat and take the kids to parks with playgrounds.
Jason: I love to go to Lowe's Build and Grow and Home Depot Kids Clinic on Saturday mornings with my young daughter. It's a half hour or forty five minute workshop where we get to assemble a toy or other fun activity together. It is a fun time to spend together.
Jordan: My favorite thing to do around Louisville with kids is going to the Parklands of Floyds Fork. The kids love playing at the play ground and splash park. The play ground is one of the most unique around town. I love to take the boys on a walk/run while they ride their bikes or scooters. The park has many miles of hiking, running, and biking paths with peaceful surroundings. The Parklands is a work in progress, so we can't wait to see what new additions the future will bring.
John: Our favorite place is the movies. We will see a new movie that my daughter (10) gets to pick out and we usually have a daddy/daughter date day and grab a bite to eat as well. Sometimes we'll go to the mall and walk around, or get a treat like a cupcake at Gigi's Cupcakes. We've also done a jump time at SkyZone before. With my 2 1/2-year-old, our favorite thing to do together is go to playgrounds and take a trip to the pet store and look at all the animals.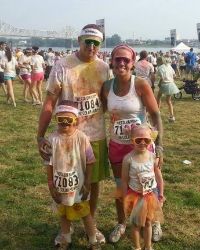 Rich: My favorite things to do with the kids, outside of their sport activities (practices and games), are to take them to parks and to the riverfront. We all like the outdoors, spring through late fall. Going for nature hikes, playing in the water at splashparks, playground fun. We also enjoy going to the zoo. Really, the most fun we seem to have involves no money at all. Well, unless we go for an ice cream treat or something after. We also enjoy races together. It's great because we can walk the family-friendly events together, or run. Our favorite is the Color Run.
Steve: I like to take my boys to Chuck E Cheese and the Louisville Zoo. It may be a simple trip, but we all have a great time. I also love taking the boys to the hardware store… doing projects, and watching the forklifts!
Since so many of the dads mentioned parks and playgrounds, here are some links to reviews of playgrounds in particular. You can always check our reviews of parks through this link, and scroll to Parks.
Don Fightmaster Playground near UofL
Riverview Park in southwest Louisville
Bob Hedge Park in Jeffersonville
Waterfront Park Downtown Louisville
Wendell Moore Park in La Grange