Mother/Daughter Things to Do around Louisville, KY and Southern Indiana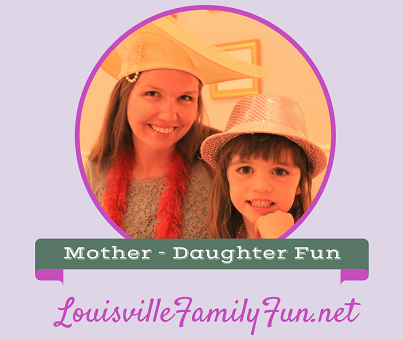 Ideas for special Mommy and Me Dates
While making this list, my daughter (8), asked me what I was doing and I explained. She said, "OOH! Can I add some things?" DUH! How could I not think to ask my daughter what her favorite Mommy and Me dates are? The answers were quite eye opening.
You see, in today's day and age we're always on the go. So, we think mommy and me dates need to be somewhere new and that's not to say they're not. We have a lot of cool stuff going on around these parts, but what really matters, is the quality of time you spend with your date.
1. Cooking Together- Every year she gets a little more independent. Partner that with learning measurements at school and you have the perfect recipe for quality time! We started out planning weekly menus with themes: Meatless Monday, Taco Tuesday, Wacky Wednesday, Fun Food Friday then we sat down and picked out the recipes together on Pinterest. Last month, we added one Friday a month where we prepare and donate food to Exit 0 Ministries. It's fun and rewarding!
2. Spa/Tea Day-Everyone needs time to relax and we run our kids just as ragged as we run ourselves. We love heading to Strandz and Threadz and spending some QT just the two of us! The mani/pedi room only has two seats, so it really is just us. Sister's Tea Parlor is another awesome place to go for some mommy/me time.
3. The Library-Talk about budget friendly! KG & I like to curl up in a corner together with a good book just as much as we like to go and learn about the history of our area and participate in the fun classes.
4. Sewing Classes-This was something I taught myself to do but didn't have the patience to teach her. So, classes it is! I'm learning things I didn't know to teach myself and someone with a lot more patience than me is helping her but we're still together. Check out Dandy Lion or Sew Much Fun KY.
5. Parks– We LOVE parks. Be it local community parks, Atlantis Water Park, the skate park, we just love to be outside doing things. And who can't use some extra Vitamin D?
6. Shows-Movies, Derby Dinner, Kentucky Center for the Arts, if it's theatre my daughter and I are in! We love the children's theatre at Derby Dinner and Stage One. But those are treats. We try to support the local theatres in our community as much as possible by also attending high school and college productions. New Albany, Jeffersonville, and Floyd Central High Schools all have nationally recognized theatre programs. Inexpensive exposure to the arts and So IN has an amazing food scene! Makes for an excellent date night. New Albany H.S. (NAHS) is doing Little Shop of Horrors for their spring musical…
7. Cleaning with Pandora-my daughter loves helping out around the house, but she also loves singing at the top of her lungs while at the same time. Guess what?!? So DO I! So, we crank the Pandora, and belt out whatever genre of music floats our boats that day dancing and cleaning and sharing lots of laughs.
8. Local History-The other day I was informed she "hated" Social Studies – it's sooooo boring. We have been to the Scribner House, Culbertson Mansion, Squire Boone Caverns, Locust Grove, Farmington, Slugger Museum, Howard Steamboat Museum, Old State Capital in Corydon…shall I go on? And every time we go we learn about our rich local history and you have a blast.
9. Festivals-We love a good festival! From Harvest Homecoming to Strawberry Festival to 4H to whatever. Throw some craft booths and yummy food into the mix and we're there!
10. Every Day Matters-I don't know about you, but I work all the time. I'm in a role where I'm never off work. I network everywhere I go. I'm always talking business. My daughter can talk my business. The other night she looked at me and said, "Mom, can you please turn off the laptop, iPad, and your phone and just play with me for an hour?" How do I say no to that. So, every day we have Mommy and Me time. Every day, for an hour, I turn off the outside world. We play Rummy, Life, Clue, we draw, make dream boards, laugh, name her kids and my grandkids, we talk and connect. It is the best part of my day hands down. Now that we're entering our busy season between my work and her athletics, it's going to be harder to fit in that hour. So, maybe we do 30 minutes, but I know how important that time is.
No matter how busy our lives are, you don't have to go out to get in quality time. We have just as much fun staying in as we do going out. When I reflect on the best memories of my childhood it was always time I had with the adults in my family spending time with me. Hand sewing Christmas ornaments, cooking brownies, baking cookies, painting, playing cards, singing, playing piano. And you know what's crazy? When I need some downtime and time to decompress, I ALWAYS before anything else, go back to those comforts. Cooking, baking, sewing. Those things are where the heart is. My point being, it's the quantity, it's by far, the quality.
By guest contributor: Heather