Review of Louisville Turners' Circus Show: 'Shipwrecked' in Louisville, KY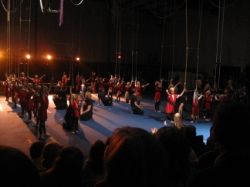 Ladies and gentlemen and kids of all ages found themselves watching flips, turns, jumps, fire, tricks, music, and laughter while enjoying Turners' Circus 2014 – Shipwrecked. My 6 and 3 year old sons had a blast watching the performers (aged from 2 to 86) at American Turners located at 3125 River Road in Louisville. They have over 200 performers, 100 volunteers, and hundreds of costumes to put on the show that is a fundraiser for them.
We arrived about 15 minutes early to get a good seat. The gym was probably half full by then, but still able to get some seats on the wooden bleachers facing the front. Drunk and Sailor entertained the crowd while we waited for the circus to start.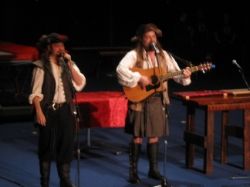 This was my sons' first circus experience. My youngest liked the magic trick with the banana the best. My oldest loved one of the first acts where the pirate cleared a table filled with cups and bowls with a boy aa a uccaneer. The young performers were jumping from a mini-trampoline onto the table teasing the pirate and doing some tricks. My favorite was the ladders and trapeze act, but I enjoyed it all. The storyline with Captain Black Bart Bartemaeus looking for his buried treasure was great and easy to follow from scene to scene.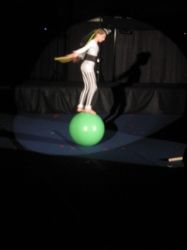 The circus has 2 acts. The intermission was about 20 minutes. During that time, you can get some concessions or just stand up and stretch your legs. The whole program lasted about two-and-half hours. The show entertained my boys the whole time! They enjoyed seeing kids their age performing and seeing some sword fighting, juggling, and unicycles. It is a very family friendly show. My kids and I give the show 2 thumbs up all around!
Turners offers classes so you and your kids can give it a try too! The next class session starts March 24.
Shipwrecked has shows through March 23. Advance tickets are $10 for adults and $5 for kids or at the door – $15 and $10.
By guest contributor: Jeanette