Review of Old School NY Pizza in Louisville, KY
Old School NY Pizza is a new pizzeria near the Kroger shopping plaza on LaGrange Road in northeast Louisville. Tuesday nights are kid's nights with Make Your Own Pizza night. For $3, the kids got a fresh, moist pizza crust to add sauce, cheese, and toppings. Then you give it back to the counter, and they bake it and return it with the rest of your meal.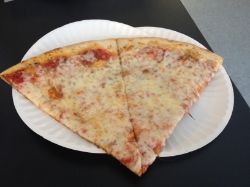 I got the $6 special (all day, every day) of 2 slices of pizza and a fountain drink (free refills!), my husband got a calzone and slice of pizza. They have pizza coloring sheets and crayons they let the kids hang on the wall when they were done, and the sheet kept the kids busy until the food was ready.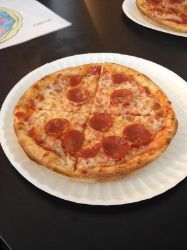 My husband was born and raised in New York, and said this pizza was actually the most authentic NY style pizza he's had outside of NY. Thin crust, perfect sauce (not too sweet or tomatoey), and a good ratio of cheese to crust to topping. It was delicious, and my husband talked about it for hours!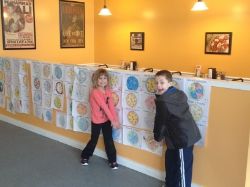 It's one of the few places that sells pizza by the slice all day long, it's delicious, and the workers (and owner) were very friendly. The atmosphere was nice. They had oldies music playing overhead, news on the tv, and classic photos and posters on the walls.
We loved the food, atmosphere, and friendliness of Old School NY Pizza, and we can't wait to go back!
By guest contributor: Caryn