Review of Wine and Canvas in Louisville, KY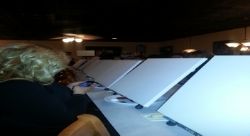 Allison's take:
I had the opportunity to go and give
Wine and Canvas
a try
when they were doing an event at the Hometown Pizza in LaGrange. The wine and
painting experience is really gaining a ton of popularity in our area and I was
excited to go participate!
I arrived at Hometown Pizza after a long day with my kiddos
excited for some adult conversation and a glass of wine! Brandy, another LFF
writer also joined me, it was very nice to get to know her a little bit during
the evening! I had participated in a class with another company previously, so
I came into the class knowing the basics of what to expect.
Upon arrival at Hometown Pizza, I was greeted with a blank
canvas and a palate of paints. The restaurant itself wasn't offering any
specific food specials but did have $4 glasses of select wines available. We were seated at a long table in the middle
of the restaurant, there were 30 of us total participating in the class. Wine
and Canvas will come to your location of choice as long as you have a minimum
of 10 people participating. I was told that there have been as many as 96(!)
people in one class before. Honestly for me it was a bit cramped. There wasn't
a lot of extra space for food, wine or elbow room, but that is a simple fix of
splitting up the tables or eating before you come.
Our teacher Allie is a local artist and she walked us
through step by step how to make certain colors and taught us how to turn our
blank canvas into a work of art. There is something daunting about starting to
paint on a totally blank canvas. The class started at 6:30 and we left there at
close to 10:30. The website said that it would be over at 9:30, I was lucky
that I had a husband at home and not a babysitter otherwise it might have been
an issue.
Wine and Canvas also offers classes called Cookies and
Canvas for Kids which would be fun to do with your older children! All and all
it was a fun night and now I have a gift that I can give a bourbon enthusiast
in my life.
I recently had the rare opportunity for a weeknight outing. With my husband in charge of the kids, I drove to Hometown Pizza in LaGrange. Hometown has some pretty tasty pizza, but I didn't go there to eat. I went there to paint.
Wine and Canvas is a national company that offers a unique mobile art studio experience. The Louisville/Elizabethtown franchise opened about a year ago and currently offers painting "classes" in several different restaurants from Elizabethtown to LaGrange and everywhere in between. The restaurant provides the space and drink/food service and Wine and Canvas provides the canvases, easels, brushes, paint and aprons. Most importantly, there is an artist there to talk each guest through the painting, step-by-step.
This was my first painting class since grade school, so needless to say, I was quite intimidated by the blank canvas on the easel in front of me. To get the full Wine and Canvas experience, I decided to order a glass of my favorite wine before we started. We had a Hometown Pizza server attending to our table, so ordering was easy. The challenge was finding a place to put my glass. The painting event was sold out, and there wasn't really any extra space on the table. I was barely able to squeeze my arm between my canvas and my neighbor's canvas to set down my glass. When my friend and I decided to split an order of cheese bread, it became even more cumbersome. I'd definitely recommend eating before the event begins, either at home or at restaurant. Lesson learned!
The painting began promptly. The artist started by instructing us to measure and mark various points on the canvas. These dots were later used as reference points. This technique seemed to work pretty well. I was only a little bit off on placement, and was able to work around my minor miscalculation. I found the step-by-step instructions to be fairly simple to follow. The most challenging part was hearing and seeing what the artist was doing. I did not arrive as early as suggested, so I ended up near the far end of the long table. I couldn't always see what was happening, however, the artist did walk around to give us a closer look as needed. I also glanced at my neighbor's canvas to make sure I was doing it right. Between many of the painting steps, we had to mix colors on our paper plate palette. I think the biggest challenge for me was getting the colors just right.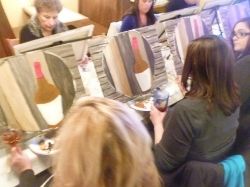 While we painted, we were treated to a wide variety of upbeat music. Some of us sang along at times and that helped to keep the mood light and fun. There was a fair amount of background noise from the restaurant. This wasn't terribly bothersome for me, but I could see it being a little overstimulating for some people. Fortunately, Wine and Canvas will be opening a studio soon, which may be more appealing for those who have a hard time with distractions. They will also bring their mobile art studio to your home or business party for a more personal experience.
We painted for about 3 hours with a break in the middle. At the end of the evening, I was pleased with the results and excited that I got to take my art home with me upon completion. Wine and Canvas is a unique, fun experience that I'd gladly participate in again. However, I do not think I would go to an event by myself due to the tight quarters. In my opinion, it's the type of thing you definitely want to attend with a friend or group. The painting classes range in price from $35 – $45. See the calendar on their website for upcoming events. They also have a Facebook page. On a side note, they also offer classes for children under the heading "Cookies and Canvas."
By guest contributors: Allison and Brandy