LouFamFun Volunteer Challenge – April
For this month's volunteer challenge idea, I decided to share my volunteer experience that I just had as a World Book Night Giver! What a fantastic and fabuLOUs thing this was for me!! I had a blast!
World Book Night is a national program with 25,000 volunteers giving 500,000 books away, for FREE, to people in their own communities. 6,200 of them to be exact! I love this story I read recently where a giver was giving away the books, and one of the receivers said "There's got to be a catch. You can't be giving these away for free." It is a nonprofit campaign to share the love of reading with non and/or light readers, and it has such a positive impact! As a children's librarian, it fed right into my love of literacy and sharing books with others!
I signed up online when I saw a Facebook post about World Book Night toward the end of last year, I believe it was close to the holidays when I sent in my online application. World Book Night is April 23, Shakespeare's birthday. When you apply online, you'll be asked some very generic questions and I honestly don't know how they choose the givers. I found out I was a World Book Night Giver in early February. The process is very simple and it's all done online. You choose your pick-up location, with many spots to choose from that are close to you in vicinity. My pick-up location was the Barnes and Noble bookstore on Hurstbourne Parkway.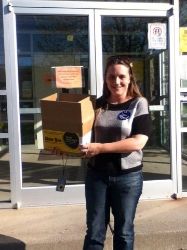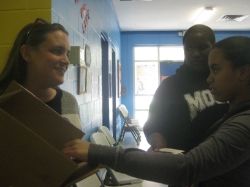 My experience: I knew that I wanted to give my book, This Boy's Life by Tobias Wolff, to kids. Preferably middle or high school students, at-risk and not "east-end" kids. The book is a memoir of a young adult who has to come to terms with conflicts in his life, namely his mother who is escaping an abusive boyfriend and takes her son (Toby) along from Florida to Utah to find a new life for them out west. I remembered a connection I had to Newburg Boys and Girls Club from when I worked downtown at the Main Library (LFPL). We used to go to Newburg on the bookmobile and do outreach with kids there and at the Newburg Community Center in the Newburg area. So, I tried emailing them but did not receive a response. I chose to just stop in on Wed, April 23, which is the official World Book Night USA, and hand out my box of books to random kids I saw at the center. It was so cool! The kids are there from 2pm-8pm each day, and I think I really surprised them and caught them off guard. They were grateful and many of them were responsive, saying "I'll take a free book!" I truly hope they read the book and that they benefit from the joy of reading. I hope that my small act of kindness runs on for the rest of their lives somehow and that it continues to impact them in some small way. That is truly what I hoped to gain from this experience.
You can find out more about the World Book Night program and being a giver here. Follow them on Facebook, Twitter, and use the hashtag #WBN2014. If you sign up for their newsletter, you will receive information about interest in becoming a World Book Night Giver for 2015. It's an experience you will not soon forget! Here is a list of ways to get in contact with the organizers:
Email: April23@worldbooknight.org
On Facebook: WorldBookNightUSA
On Twitter: @WBNAmerica
By guest contributor: Erin