Review of Lotsa Pasta, St. Matthews in Louisville, KY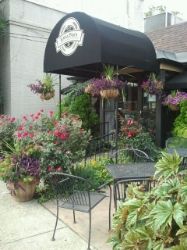 St. Matthews has a wonderful eclectic collection of specialty shops and restaurants, and it seems like
there's always a new place to try. But my tried and true place in St. Matthews to grab a quick lunch is
the deli at Lotsa Pasta. I've always gone to Lotsa Pasta for the specialty groceries. Their cheese shop has the best selection of cheese in town, and Will the "cheese dude" can tell you more about the various cheeses than you ever thought you could know.
After you get schooled on my favorite aged Beemster cheese, step down to the deli counter and order
a roast beef or turkey and goat cheese Panini. They also have multiple combinations of meat, cheese, bread, and toppings to build your own cold sandwich. There are various side dishes in the deli case, from Chicken Chipotle pasta salad to homemade soup. They also offer catering, boxed lunches, and premade meals you can take home and tell your family you made from scratch.
Perhaps the best thing about dining at the Café at Lotsa Pasta is the beautifully landscaped patio. The
flora attract humming birds and bumble bees alike, and if not for the occasional noise from traffic
you would never know you were just feet from Lexington Road. It really is one of the best kept dining
secrets in St. Matthews!
By guest contributor: Maggie