Review of Mellow Mushroom – Middletown location in Louisville, KY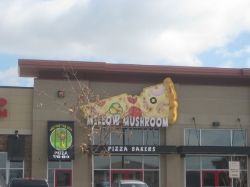 My family and I frequent the Mellow Mushroom location in Middletown quite often. We have probably dined there about 4-5 times now since it opened. We really enjoy the atmosphere, the dining experience, and the pizza!
Every time we have dined here, we have had our kids with us (ages 10 and 2). A lot of people think of Mellow Mushroom as a spot to hit up during football or basketball season and have a beer or glass of wine. And although there are plenty of opportunities for doing that, there are also just as many opportunities to dine here and have a family-friendly experience. I love the decor on the walls, the bizarre lighting fixtures hanging from the ceiling, and the open window/air feeling of the kitchen where the pizzas are baked. You can grab a great seat right in front and watch the cooks/pizza bakers throw the dough in the air to make the pizza pies! It's really entertaining.
We have always been to eat there in the evening. It does get pretty crowded on weekend nights, so expect a bit of a wait. We just absolutely love their pizza. It is to die for! They do offer other items on the menu, including salads, appetizers, calzones, and hoagies. Read over the menu here. We usually order a large build-your-own pizza (topped with a combo of andouille sausage, ground beef, mushrooms, or meatballs) for the adults in our party and a small plain cheese pizza for our two children. They also offer specialty pizzas, and one of these days I'll order the Gourmet White. We've been to eat there with just us four and the grandparents have also tagged along before. They do have a kids menu. Usually, our bill comes to about $40.00 with tax, and then tip added on. So, it's a not a cheap pizza place but it's delicious! – with very good, quality ingredients. They also have offerings like gluten-free and vegan, and for those with food allergies, they have an allergens tool on their menu bar where you can click on ingredients you want to avoid, etc.
My husband and I got a gift card for Christmas that we are going to use exclusively on ourselves for a date night coming soon! There is also a Mellow Mushroom location in St. Matthews. Follow them on Facebook; they are always announcing special deals. If you haven't eaten at Mellow Mushroom, try it, go be mellow and enjoy!
By guest contributor: Erin