Review of Muhammad Ali Center in Downtown Louisville, KY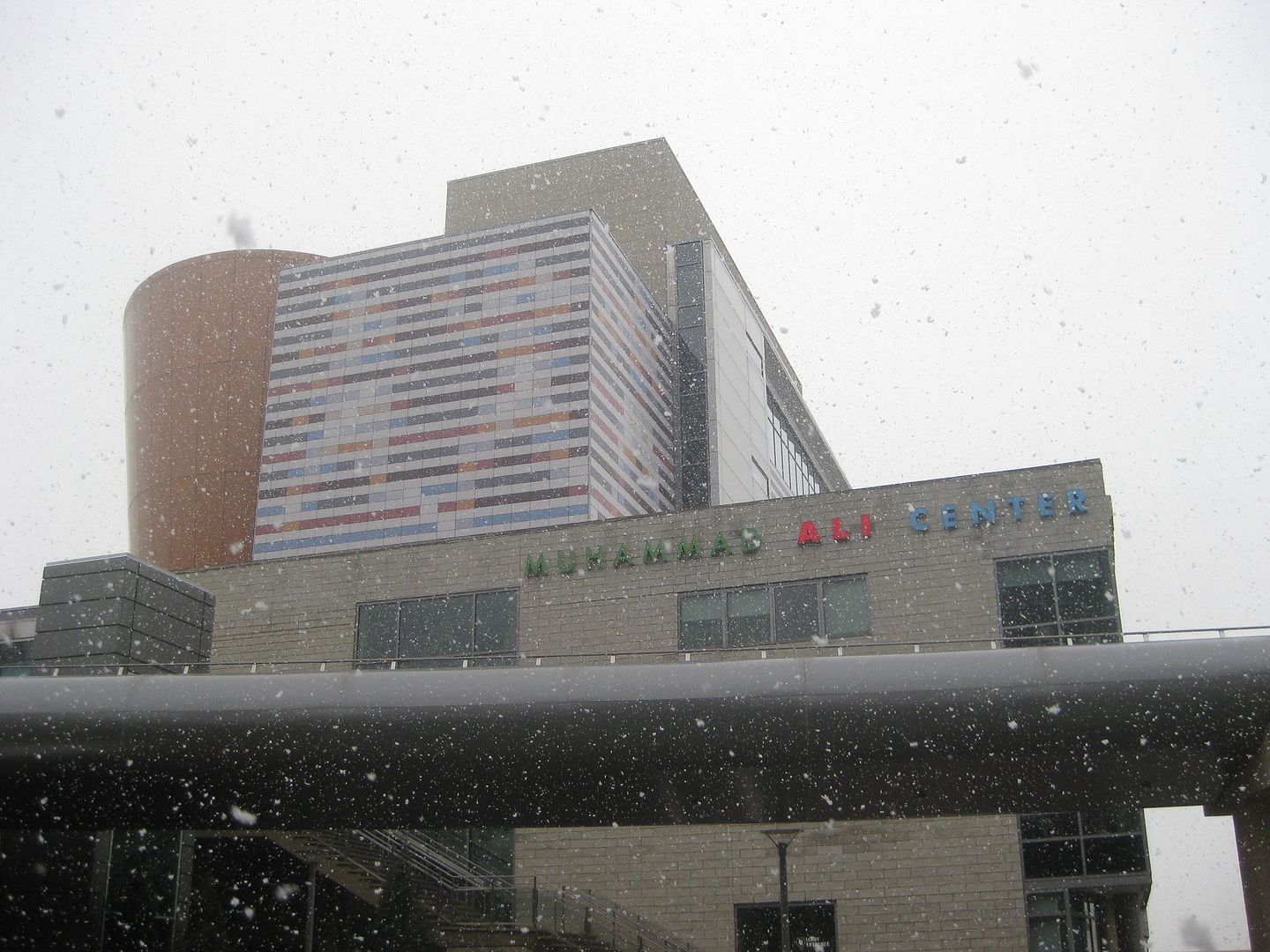 Back in February, my family and I took advantage of the $5 February admission for Kentucky and Indiana residents and visited the Muhammad Ali Center for the first time. With our reduced admission price, my family of four was admitted for a total of $14.00! If you don't take advantage of that great offer every year, you should!
You begin your visit at the Ali Center by venturing upstairs five levels by way of what looked like the longest escalator my 2 year-old has ever seen! There is also an elevator you can access to go to floor 5. Here you go into a movie theater where you will watch a fabulous documentary about Muhammad Ali. It was breathtaking and awe-inspiring and all that good stuff. The film is shown on three screens so you feel like you're surrounded by the story about Ali playing out in front of you; my 10 year-old thought this was really cool. You then make your way through the 5th, 4th, and 3rd floors-you're basically making your way back down as you meander through the exhibits. You will learn so much about Ali, his life, history about boxing and history of Louisville. It was a great experience and there were a lot of interactive exhibits and signs that read "Touch"-I really like those kinds of things for families with kids-it means they want kids to touch things rather than telling them Don't Touch the entire time! A breath of fresh air.
There is a LOT of reading to do throughout the Ali Center; many of the placards on the walls are full of historical facts and stories about Muhammad Ali and his younger years as Cassius Clay. For that reason, I would say this museum is more geared toward older children, probably elementary +. At least those are the kids who will take the most away with them from their visit. There are some areas of the museum that are very hands on and interactive. The day we were there, there was a preschool group of children there with their daycare teachers. They were probably 3 and 4 years old, and although they couldn't benefit from the history and stories written everywhere, they seemed to be enjoying themselves.
The entire center is wheelchair accessible and very stroller friendly, as we had our toddler in his stroller throughout our visit. Regular admission is $9 for adults, $4 for children ages 6-12; 5 and under are admitted free. Click here for hours.
By guest contributor: Erin