Review of Thomas Edison House in Louisville, KY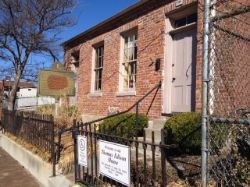 In 1866, Thomas Edison spent a year of his life in Louisville as an employee of Western Union. One night in 1867, he was experimenting with a battery when he spilled sulfuric acid onto his boss's desk. The next morning Edison was fired.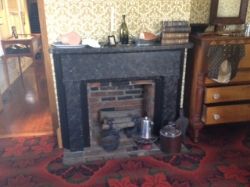 Edison is thought to have lived in a small shot-gun duplex home in Butchertown on East Washington Street. Louisville's Thomas Edison House Museum is now located there, and is home to many of Edison's inventions,
personal items, and a replication of what his room may have looked like in 1866.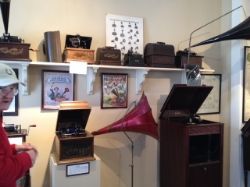 Did you know Edison still holds the record for most number of patents? Did you know he was home schooled and self taught because he did so poorly in school? You can learn all about his private and professional life at the museum.
Some of the interesting artifacts found at the Thomas Edison House include both cylinder and disc phonographs, an Edison Kinetoscope, the first home motion picture projector, and telegraph machines.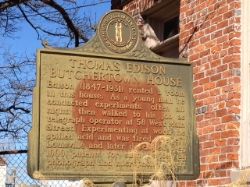 Parking is on the street, but due to the lack of businesses in the surrounding area, there is plenty of room to park. When you first enter the museum, there is a very small gift shop area where you pay your admission. The employee told me we could look around on our own, or he could give is a guided tour. I preferred to have a tour, but my 8 year old and 5 year old made it one of the longest 45 minutes of my life.
The guide had great stories, tons of knowledge, and lots of extra information that we wouldn't have learned on our own. He tried his best to make it interesting for my kids, and even let them touch several of the items in the museum (they really enjoyed sending telegraph messages to each other and learning about chamber pots!).
However, when I go back, I will ask for another tour, take my time, and ask for even more stories. But I will NOT bring young children. There are a ton of breakable items, lots of reading, and I think I must have said, "Don't touch that!" about a thousand times. My kids were bored by the endless knowledge of the guide, and did not really understand how all the antiques they saw in the museum related to today's DVDs, cell phones, and GE. It's a wonderful place to bring Thomas Edison to life, and would be great for history buffs, older kids learning about Edison in school, or anyone who enjoys learning about Louisville's history. If you are going to take a well behaved child, be sure to warn them that there is lots of really old stuff that they will not be allowed to touch, even though it's right at their level, and looks really interesting.
They say Edison seemed more proud of his failures than his successes. He would have been very proud of my visit to Louisville's Thomas Edison House Museum.
Next time I'll do it better!
For more information on Edison, check out:
http://en.m.wikipedia.org/wiki/Thomas_Edison. For more information on Louisville's Thomas Edison House Museum, go to www.edisonhouse.org.
By guest contributor: Caryn