Grandparent/Grandchild Things to Do in and around Louisville, KY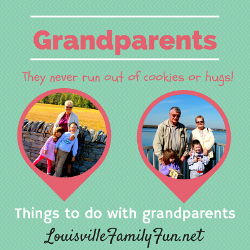 I am not a Grandma, but I know quite a few amazing ones! Here are a few ideas I collected from the
Grandparents in my life to share with you and your family:
Attend a great live performance! Check out a play at Derby Dinner Playhouse or the Little Colonel Playhouse. Head
over to Stage One and Actor's Theatre. We've recently reviewed Derby Dinner HERE .
Attend the Louisville Orchestra, Louisville Chorus, or Louisville Ballet. There are also many smaller
performing groups around town. Check out something new together!
Go bird watching! There are many places locally that you can encounter many kinds of birds. Grab a field
guide and your binoculars, and see what you can find! Try the Anchorage Trail or Bernheim Forest for
starters.
Paint your own pottery together! You can never have too many coffee mugs. (Especially ones that say "I
love Grandma.") A great place to start is at Louisville Stoneware – read our review here.
Have a formal night out at one of Louisville's great restaurants. Not only will you have great company,
but it is a perfect time to introduce and practice manners. Or have a fun dining time together at one of these places.
Stay in a hotel for a "sleepover party." Invite all of the grandkids to stay the night in a fun hotel. Go
swimming, watch movies, eat not-so-healthy-snacks, and have a blast. Our family does this for New
Year's Eve.
Hope you enjoy the start of this list! Have fun making your own family memories!!
By guest contributor: Jackie