Review of Fire It Up Pottery in LaGrange, KY
We have a family tradition of always making pottery gifts for our family at Christmas time – it's a fun give idea for any occasion year-round. We decided to try "Fire It Up" in downtown LaGrange. It's a cute building with a main table for 4 in the center, and 2 other tables in the back area. They specialize in paint your own pottery, dichroic jewelry, clay, and fused glass.
The woman who assisted us was very helpful and personable. There was a good selection of pottery to chose from, the atmosphere was warm, and we had a great time. When it was time for me to do a little finishing work, they brought out markers for the kids to draw on the table with (which are covered in paper). That made it so easy to keep the kids busy without having to worry about them getting in trouble with the breakable items in the store.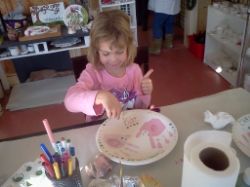 Besides the friendliness and coziness of Fire It Up, one of the things I liked best, was there was no sitting fee or other hidden fees for the pottery painting. What you pick out, is what you pay for. The pottery is fired, and you pick it up in a week or two. We had a wonderful experience, and the pottery came out great.

I would recommend calling in advance to make sure it isn't too crowded. While we were there, someone came in that was having a birthday party at Fire It Up. It seems like a great idea for a small party, and they sounded very fun and accommodating. They are open Tuesday thru Saturday, with late hours on Friday.
By guest contributor: Caryn