Things to Do on Memorial Day Weekend 2014 in and around Louisville, KY
This post is sponsored by Atlantis Water Park.
Are you thinking about summer? Check out our recent podcast for great ideas

Here are some ideas if you're staying in town for Memorial Day weekend, or if you're looking for a lake weekend getaway or a day trip!
1. Head to the historic Louisville Water Tower for the Kentucky Reggae Festival. It's always in Louisville on Memorial Day weekend. Review HERE. It's super family-friendly and a great music entertainment option outdoors!
2. Check out the Land Between the Lakes area and Lake Barkley and Kentucky Lake. We have a review here. Our Kentucky State Parks system is invaluable for planning a trip to a state park or a lake getaway, check it out!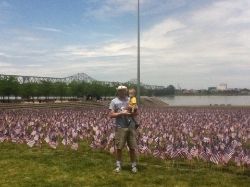 3. Feeling patriotic? Why not place American flags around designated spots for our active, retired, and veteran military. It's a great weekend to get the whole family involved in a project like that. Here are some ideas to get you started: Last year my family spent an entire day (may have been two!) of this weekend at the Waterfront Park area. Volunteers had placed American flags all throughout the Great Lawn. It was done through this project, flags4vets.com. Check back to see if they are organizing another one this year. Here is the event for this year at Waterfront Park, on Saturday, May 24.
4. Big news! Kentucky Kingdom opens on May 24. It's supposed to be more family-oriented with new rides in their King Louie's Playland and they have a new sea lion "splash" show.
5. Check out our Top 10 Lists here. There are SO many ideas that I don't need to list them all out again for you! We have our Day Trips from Louisville ideas, Summer Break Itinerary (which can easily be used this weekend!), Al Fresco Dining, Tips for Camping with kids, History Hunt for Families, and more!
Have a fabuLOUs Memorial Day weekend, folks!
By guest contributor: Erin