Review of Float on Floyds Fork – Canoe / Kayak rentals at The Parklands of Floyds Fork in Louisville, KY
I was so excited when I saw that LFF needed a writer to review the Canoeing & Paddling option that is being offered at the Parklands on Floyds Fork, I am pretty sure my hand was the first in the air and I was waving it around saying pick me, pick me. Well I got picked and had a blast.
Rentals are run out of the North Beckley Creek Park and it is highly recommend you make boat reservations or you are not guaranteed a boat. Rentals are available every day except Monday and Tuesday from Memorial Day-Labor day, weather and water levels permitting. You can check the Green Earth Outdoors Facebook page or the Parklands Facebook page to see if they are running rentals.
The Parklands has done an amazing job with the put in area for boats. If you have your own you can drive up, park, unload and be on that water in a matter of minutes, they are even offering a shuttle option from the take out location for $5 per person and $5 per craft. If you don't have your own, not a problem, you can rent from the good people of Green Earth Outdoors. There are a few different options for renting and some of it depends on age, you have to be 11 years of age or older to operate a craft by yourself, 10 year olds can do the tandem options with and adult present in the boat. Children must weigh a minimum of 30lbs. All equipment that you need is provided in your rental include Personal Flotation Devices (PFD's). The PFD's are required to be worn at all times while in or near the water.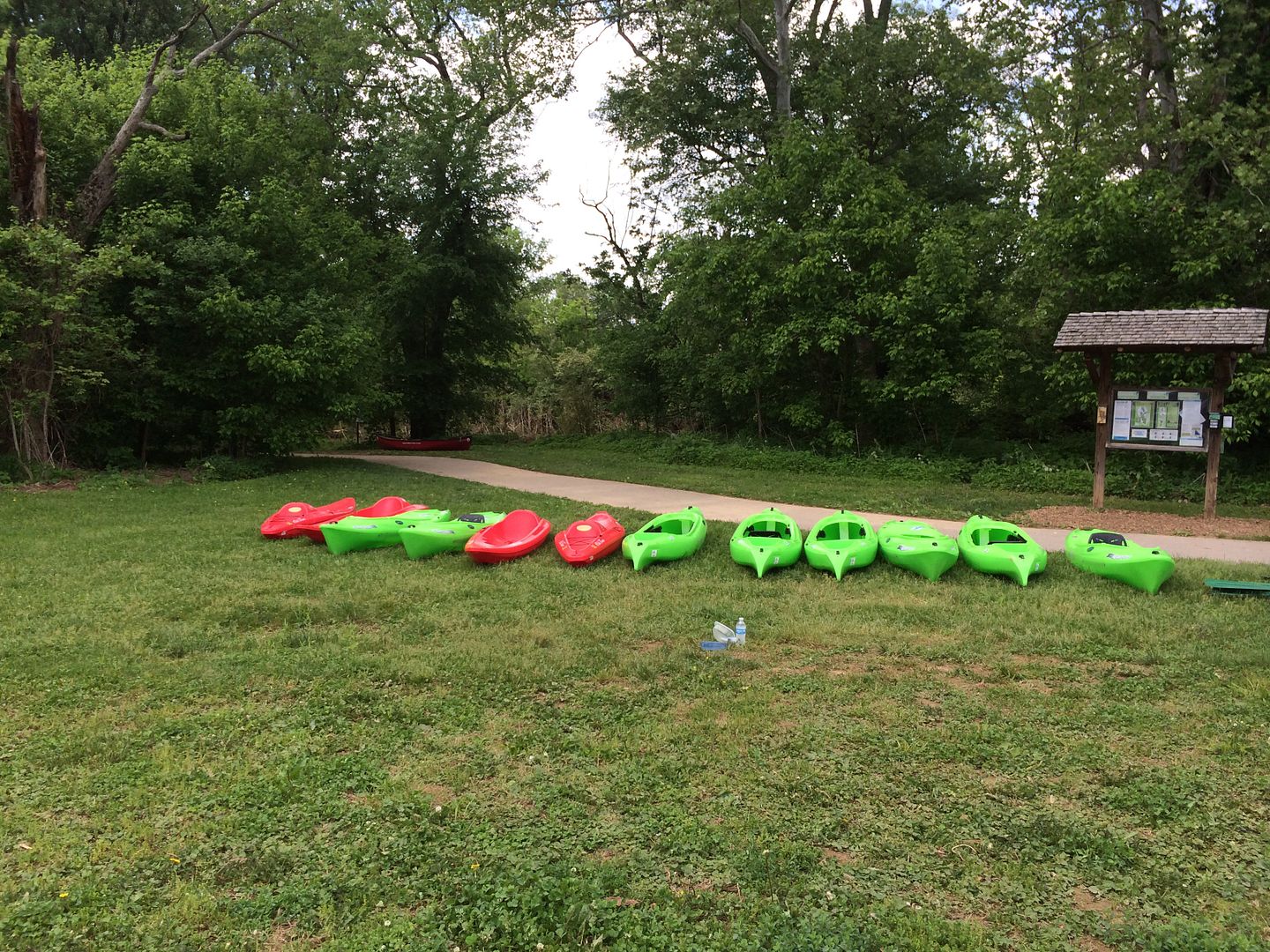 Like I said at the beginning I had a blast on the water. As we meandered down the water we got to see all different kinds of wildlife, from turtles to fish. There are a few sections that are a little challenging to a first timer but we had several first timers with us that day and they all did great. Over all we paddled for about an hour and went about 1.5 miles. Everyone wanted more and I take that as a sign of good trip. The staff from both Green Earth Outdoors and The Parklands was very friends and helpful. They answered all our questions and made everyone feel comfortable on the water.
For day trip rentals a shuttle is offered but for hourly you have to pay extra. It is $5 per person and $5 per boat. You can also pay for the shuttle if you take your own personal craft. If you do not want to take the shuttle back an option is to take a bike to the take out lot. The park has racks where you can securely lock your bike. When you take out, get your bike and lock your boat to the rack, ride to your car (an easy bike ride) and then go back for your boat. If you rent from them they take care of your boat at the take out. No need to worry about it.
Overall I would say this is a great activity for families with older kids that can help paddle or have their own boat. It can get stressful with wiggly little ones that just want to play in the water and might not have the attention span to really enjoy the experience. I would also add this to fun things to do as a mom/kid dad/kid outing. Take a picnic and enjoy the day.
Below are a few suggestions:
Non-cotton comfortable clothing that can get wet and maybe dirty
Bring a water bottle with drinking water and sun screen
Be prepared to get wet
Leave your phone in the car (and anything else you would cry about if you lost in the water)
If you must take your valuables make sure to have a dry bag to put them in or a plastic sandwich bag
Have fun and take in the beautiful sites while you paddle.
You can check out rental price by clicking here.
By guest contributor: Christine